There was a time when Emily M. didn't think she could work as a project manager and have an acceptable work-life balance at the same time. But as she was considering a position at VC3, she was able to envision a reality where she could do exactly that. After talking with a few people she knew at VC3, her passion for her calling was reignited. She confidently stepped into her new job feeling that it was possible to meet the daily challenges that came with project management without the risk of burning out.
"At one point, I wasn't sure if I wanted to stay in the IT world, so I was treading lightly," explained Emily. "I wanted to feel like there was more of a work-life balance and that's the vibe I was getting at VC3."
The Growth Mindset Approach to Challenges
There was another theme that came through as Emily considered a project manager role at VC3 and it revolved around having a growth mindset. What she loved about this was what it said about the day-to-day environment at the company. Challenges are expected and failures inevitable from time to time, but nothing was insurmountable because everyone would be pulling together.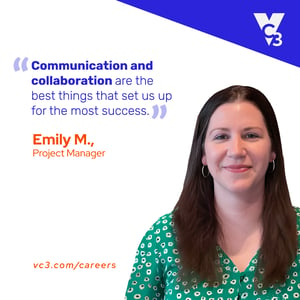 "Emily is willing to take on anything. She does not shy away from a challenge," said Jamie. "She's methodical in her work but very agile and able to pivot quickly. She's always looking at things from the client perspective and looking for ways to improve our internal processes to make things run smoothly."
Emily has been working as a project manager in the managed service provider (MSP) world for more than a decade. At VC3, there's a lot of variety in the kind of projects that she manages. She touches everything from infrastructure refreshes and firewall replacements to new client onboarding and security improvements.
Have a Game Plan but Be Ready to Pivot
She gets a feeling of satisfaction every time a project is successfully closed, but the most interesting part of her work is the execution because that's where the challenges are.
"Despite all the planning that goes into a project, there are inevitably things that happen during the process so you have to regroup, communicate and then get back on track," said Emily. "That's where the challenge comes in."
According to Emily, it's the game plan that's created at the beginning of a project that sets up the implementation team for the most success. Communication and collaboration are equally important. There's a constant stream of Teams chats and meetings going on throughout the day. Colleagues are quick to respond and eager to help. It makes Emily feel like she's in close contact with the team even though people are spread out throughout North America and she's become a go-to resource for her coworkers too.
"You can ping Emily with a question and she's always willing to dig in and help a teammate," shared her manager, Jamie. "When things are hard, she's somebody you can get on a call with and make it through the hard stuff and still end on a good note."
Leadership Transparency Removes Roadblocks
You might expect company leadership to be distant for a company that has a footprint that includes both Canada and the US, but that's not what Emily has found. She says that the directors and executives ask for feedback. They want to know what's going on, what works, what doesn't and what needs to be done to get issues solved.
"There's a transparency coming from the top down that removes a lot of roadblocks," said Emily. "On top of that, they care about professional development. I feel like they're constantly trying to make sure people have the ability to do what they want to do."
As a professional experienced in guiding a project through all its phases, Emily is glad for the support that she receives to pursue training opportunities and credentials in her field. It's evident to her that her employer wants her to thrive and that's just one thing that makes VC3 a great place to work.
When Emily talks about what it's like to work at VC3, she talks about challenges and opportunity, teamwork and balance, communication and transparency. For her, it makes a difference in her day-to-day experience when everyone is walking the same path towards customer success. In fact, she says it's amazing.