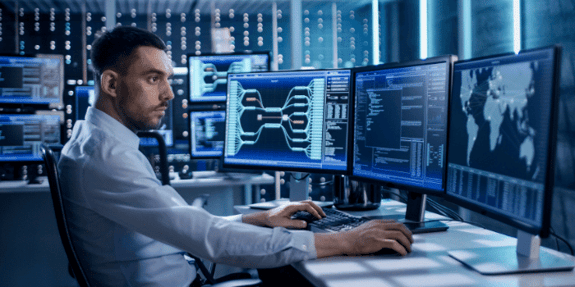 Cybersecurity
Rest easy knowing that you're protected today and prepared for whatever tomorrow brings.
Cyber Security Is a Process ⁠— Not a Project
Because the cyber threat landscape is always changing, protecting your data and systems from hackers is an ongoing daily process of management, maintenance, and continuous improvement.

Our process includes the use of technical tools to create a secure IT network, but your cybersecurity plan wouldn't be complete without an appropriate data backup and disaster recovery system, as well as internal policies and procedures to guide employee behaviors.
Cybersecurity Services and Consulting for Regulatory Compliance
Increased security requirements are coming down the supply chain. Is your IT team's cybersecurity knowledge ready to handle these new requirements?
Translating cybersecurity regulations into actionable practices can be confusing and not getting it right could result in penalties and lost business, as well as increased risk for a data breach.
VC3 is experienced at interpreting the complexities of industry regulations into processes and procedures that not only meet requirements but can actually improve operations.
We're familiar with many industry regulations and frameworks, such as CMMC, NIST, HIPAA, ITAR, HITECH, PCI-DSS, GDPR, and SOX, to name a few.
Cyber Risk is Business Risk
Managing cyber risk is necessary for managing overall business risk. Your data and IT systems have value and the risk of a cyberattack increases every day. The fallout from a data breach can be devastating, resulting in downtime, unexpected costs, and a damaged reputation.
Municipal and business leaders who want to lessen the risk of a data breach disrupting their business operations are increasing their investments in prevention.
The capacity, skill set, and experience to help you AIM higher.
Fast Deployment

A streamlined onboarding process that ramps up your protection as quickly as possible.

True 24/7/365 Monitoring

Keep your organization secure with 24/7/365 monitoring by our Security Operations Center.

Layered Security

Our cybersecurity services include layers of cyber defenses that thwart threats, address the role of human behavior in maintaining security, and help organizations gain the resilience they need to bounce back after a data loss incident.

Strategic Insight

Get a forward-thinking partner that helps you evaluate your options, think ahead, and prevent costly attacks.

Practical Innovation

Whether you need EDR or SIEM, rest assured you are proactively protected with right-sized solutions.

Proactive, Long-Term View

Get help making strategic security decisions that protect you today AND tomorrow.
Our approach to technology enables your organization to AIM Higher.
Lots of companies can set up your laptops or manage your infrastructure. In order to contend with today's challenges, you need more than a break-fix vendor with a "24/7" helpdesk ticket to nowhere. You need a proactive partner that stops the issues before they start. That's where VC3 comes in.
1,100+ Municipalities and 700+ Businesses Turn to VC3 to Get Out of the Trenches of IT and Cybersecurity
VC3 gets IT out of sight, out of mind, and out of your way.
1,100+ municipalities and 700+ businesses turn to VC3 to get out of the IT trenches and back to working on what matters.
<2
Hour
Onsite Response Time for Critical Issues
87 %
Average Reduction
in IT Issues After 3 Months
24/7
Support
From a Team of 100% North American-Based Experts
Let's talk about how VC3 can help you AIM higher.