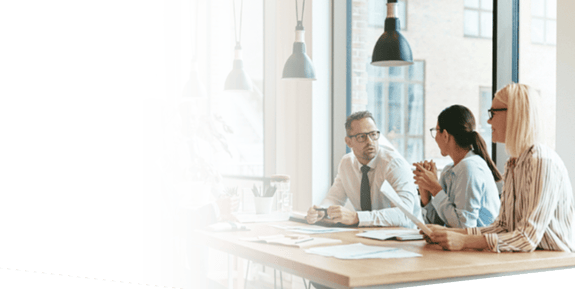 Businesses
Get everything you need with right-sized IT solutions
that keep you current, efficient, and protected.
Use Technology to Overcome Challenges and Threats
When needs and budgets clash, it's time to look for a better way to use technology to empower your staff, stay safe in a dangerous cyber world, and become more people-focused.
Strengthen your cyber defenses to thwart service delivery threats and protect data
Streamline operations and empower your staff
Integrate systems and data to improve your customer experience and operational efficiency
VC3 acts as an extension of your internal team, giving you everything you need - and nothing you don't.
We get it. You need more than a break-fix vendor. You need a forward-thinking, practical, and proactive partner – one who can guide you to right-sized solutions that empower you to use technology to drive efficiency and mitigate risk… and one who can help you avoid bloated solutions that drive unpredictable costs.
VC3 has the capacity, skill set, and experience to help you AIM higher.
Strategic IT Investments

IT strategy and efficiency that gets you the most bang for your buck in the short term, while planning for the long term.

Unparalleled Support

100% North American 24/7 IT helpdesk with both remote and onsite support.

Practical Innovation

Stay leading edge without bloated solutions that drive up costs.

Proactive Insights

Get a forward thinking partner that keeps you current, efficient, and protected.

Right Sized Solutions

IT solutions with a long term view that balances simplicity with strength.

Specialized Expertise

Experts that help you use technology to minimize risk, increase clarity, and gain confidence.
Comprehensive IT Services
Some of the ways we help businesses include:
Fast response and 24/7 support
Interpret technical aspects of regulatory compliance
Maximize cybersecurity with layered defenses
Manage mobile devices for security and data visibility
Optimize use of cloud applications
Integrate data capture systems
Design systems to optimize internet connectivity
Enable staff to work from anywhere
Establish data backup and disaster recovery procedures
Unlimited support desk calls
Inefficiencies Never Fix Themselves
Wouldn't you like to find and fix the root causes of the inefficiencies and IT issues that are stealing time away from your staff on a daily basis?
Alleviate the IT Burden
Learn how VC3 can give your company the IT results you need for efficient operations and transform IT from a complicated burden into a powerful tool for success.
Our approach to technology enables your organization to AIM Higher
Lots of companies can set up your laptops or manage your infrastructure. In order to contend with today's challenges, you need more than a break-fix vendor with a "24/7" helpdesk ticket to nowhere. You need a proactive partner that stops the issues before they start. That's where VC3 comes in.
Deep commitment to high quality solutions and services.
Frontline Education is pleased to continue the strong, collaborative relationship that Excent Corporation enjoyed with VC3. VC3 s deep commitment to high quality solutions and services, along with their impressive skill sets, provides an important complement to the Frontline Education solutions. We look forward to working closely with VC3 as we continue to incorporate the Excent team into the Frontline Education family.
Director
Frontline Education
700+ businesses turn to VC3 when they need a proactive partner, not a break-fix vendor.
< 2
Hour
Response Time + Onsite Support
85 %
Decrease in IT Issues
24/7
Support
From a Team of 100% North American-Based Experts
Let's talk about how VC3 can help you AIM higher.