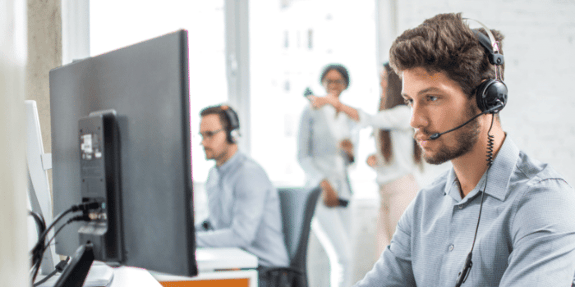 Managed Security Services
Whether you need to supplement your in-house security team or you don't have one at all, our right-sized cybersecurity solutions keep your organization protected.
Ideal for organizations needing to meet cyber insurance and compliance requirements.
Organizations turn to VC3 for
Managed Security Services when they...
Have concerns about complying with cybersecurity regulations.
Have no way of assessing the health of their cybersecurity or protecting themselves from ransomware.
Need to supplement their in-house security teams.
Have no in-house security team, and therefore can't confirm potential threats or eliminate cybersecurity problems.
Have experienced a data breach and aren't sure if cyberattackers have exploited the data they stole.
Managed Security Features
Powerful Cybersecurity. Simplified.
The capacity, skill set, and experience to help you AIM higher.
Fast Deployment

Our streamlined Managed Security onboarding process ramps up your protection as quickly as possible and stops cyber attackers before they strike.

True 24/7/365 Monitoring

Keep your organization secure with 24/7/365 monitoring by our Security Operations Center.

Reduced Organizational Risk

Our cybersecurity tools, processes, and best practices protect your organization against the risk of cyberattacks, ransomware, and data breaches.

Decreased Employee Liability

Web Content Filtering and Email Protect stop cyberattacks at the source while Cyber Aware keeps employees ready to see through the tricks of cybercriminals.

Greater Visibility, Greater Resilience

MDR constantly oversees your network to look for potential threats, which proactively increases your cyber posture.

Layered Security

Our cybersecurity services include layers of cyber defenses that thwart threats, address the role of human behavior in maintaining security, and help organizations gain the resilience they need to bounce back after a data loss incident.
What Our Clients Are Saying
We hadn't seen anyone like VC3 before.
I was pleasantly surprised by VC3's remote IT support and how well it served our city. We learned the hard way that we needed a vendor that helped us stay secure from ransomware and cyberattacks, update and patch everything constantly, and stay on top of IT issues. With VC3, everything is getting done. You don't know what you're missing if you've never seen it before—and we hadn't seen anyone like VC3 before.
Captain Jeff Swain
Isle of Palms Police Department, SC
Their knowledge and timing are impeccable.
Regarding VC3's day to day troubleshooting, their knowledge and timing are impeccable. Most of the time their IT staff can take control of our workstations and fix problems within minutes. More complex problems that require onsite staff are handled in short order. The staff is very pleasant and patient to work with each time we call. We receive calls from them to check up on us from time to time once an issue is resolved. Response time to emails and chats is almost immediate. We are very happy with our choice and feel that the service provided is well worth the monthly fee.
Jason Hall
City Manager, City of Lyons, GA
VC3 gets IT out of sight, out of mind, and out of your way.
<2
Hour
Response Time + Onsite Support
24/7
Support
From a Team of 100% North American-Based Experts
29 +
Years
of Experience Evolving with the Threat Landscape
11 +
Years
Average Relationship Tenure
Let's talk about how VC3 can help you AIM higher.