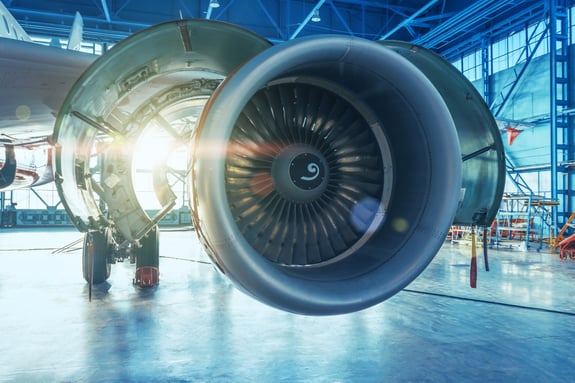 Aerospace and Defense
IT Support, Security & CMMC Compliance Services to Strengthen Your Place in the Aerospace Supply Chain
Use IT as a Competitive Edge
If your business is involved in the aerospace and defense industry, you are part of one of the most complex supply chains in the world. Your customers at the top of the chain depend on your performance not just to meet their production goals, but to be profitable.

Add Cybersecurity Maturity Model Certification (CMMC) compliance to the list of requirements that you must deliver to your customers, and you have significant pressure upon your own ability to be profitable.


The way you manage IT can have a huge impact on your ability to grow profits while managing costs and risks. When you change your IT experience, you can change the way that technology affects your bottom line, making a difference to your entire business.
Meet customer requirements for visibility, cost reductions, data storage, and adopting new technologies.
Attain CMMC compliance and maintain rigid security standards while enabling collaboration.

Read about CMMC Compliance.
Implement operational efficiencies that control costs and provide a competitive advantage.
Maintain Profitability with Effective IT
VC3 understands that your decisions about IT could help you become a better supplier.
VC3 has the capacity, skill set, and over 29 years of experience helping you AIM higher.
Deep Experience with Aerospace and Defense

30 years of experience serving the IT needs of aerospace and defense organizations.

Fast Resolution Time

We understand that downtime is unacceptable, and technology should not be a barrier when serving customers. Our average minutes to resolution is 45 minutes, which minimizes disruption.

Trusted, Local Presence

We are dedicated to providing 24/7/365 IT support and customer service no matter your location. With engineers located all across North America, VC3 is there for your organization no matter the time of day or type of request.

Comprehensive Solutions

We offer a range of advanced technology solutions that help organizations improve their operations, streamline processes, and enhance their customer service.

Proactive, Long-Term View

Our Strategic Advisors guide organizations through evolving compliance requirements and ensure they have the correct technology in place to meet organizational goals.

Specialized, Strategic Expertise

Our team has extensive experience with aerospace and defense organizations of all sizes, and we are dedicated to providing proactive guidance to help you achieve your goals.
Outsourced IT Department Services
Some of the ways that we help aerospace and defense companies include:
Attaining and maintaining CMMC compliance
Interpreting technical aspects of ITAR regulations
Interpreting and implementing ISO and NIST standards
Creating security policies and procedures
Developing processes to control access to information
Designing data storage systems
Integrating systems internally and externally
Acting as a support liaison for ERP and CAD software
Finding technical solutions to support LEAN initiatives
Enabling new technologies such as robotics, AI, and blockchain
Setting up EDI systems and training staff in their use
Providing unlimited support desk calls
Cybersecurity Maturity Model Certification
As a CMMC Registered Provider Organization, we help aerospace companies successfully attain and maintain Cybersecurity Maturity Model Certification.
By leveraging the knowledge of our trained CMMC consultants, along with our expertise in cybersecurity, manufacturers in the aerospace and defense industry can get the guidance they need to take them all the way through their compliance journey.
The Price of Poor Performance
If your IT systems are causing poor operating performance and creating a poor experience for your customers, you can be sure it's showing up on your supplier scorecard and it will be noticed.
Be a More Competitive Supplier
VC3's strategic IT management and support will help you become a more competitive supplier so that you can realize more profits and capture more business.
Our approach to technology enables your organization to AIM Higher.
Lots of companies can set up your laptops or manage your infrastructure. In order to contend with today's challenges, you need more than a break-fix vendor with a "24/7" help desk ticket to nowhere. You need a proactive partner that stops the issues before they start. That's where VC3 comes in.
The biggest benefit that I have with a relationship with Accent is going home at night knowing we have a team of professionals behind the scenes. Having that confidence really allows us to focus on what we're good at..
Gary Stell Jr.
President & CEO - ABC School Equipment ABC School Equipment
Over 700 businesses turn to VC3 to meet the challenges of today's complex technology + regulatory landscape.
< 2
Hour
Response Time + Onsite Support
24/7
Support
From a Team of 100% North American-Based Experts
Let's talk about how VC3 can help you AIM higher.