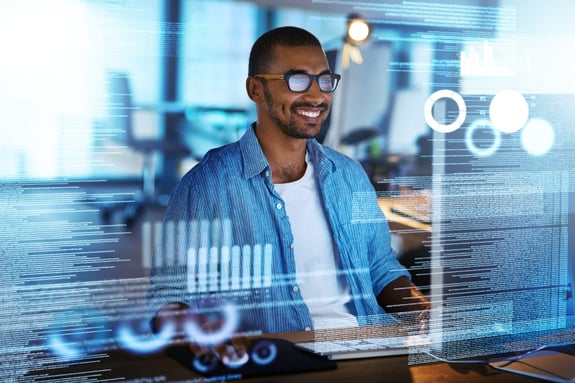 Cybersecurity Assessments
Rest easy knowing your organization is protected from cyber threats.
Ideal for organizations needing a snapshot of their cybersecurity strengths and weaknesses.
Organizations turn to VC3 for
Cybersecurity Assessments when they..
Need clarity around the health of their cybersecurity program.
Require specific assessments to meet regulatory mandates.
Want to get cyber insurance and need help meeting application requirements.
Want to identify areas of vulnerability across their cybersecurity environment.
Want to build cybersecurity resilience strategically, but don't know where to start.
The Right Time for a Cybersecurity Assessment
Imagine that you contracted a cybersecurity assessment provider to find out if you're vulnerable to a cyber intrusion and when they logged into your systems, they found that you were in the process of being attacked! (True story!)
Obviously, the time to have a cybersecurity assessment is before something happens but there are different reasons that make now the right time.
You need to comply with regulations.
You need a second opinion on cybersecurity.
You need to verify your security posture to your customers.
You've had a cyberattack.
You're wondering if you have gaps in your security posture.
Whether your goal is compliance, validation that your IT team is doing all they say they're doing, or you're thinking about outsourcing the cybersecurity function of your business, a cybersecurity assessment is the way to get the lay of the land and point you toward what you need to do next to better manage cyber risks.
4-Step Cybersecurity and Risk Assessment Process
The cybersecurity assessment process will be customized to meet your goals for compliance, confidence, or validation of your security posture. Some leaders want their IT security assessment to proceed in stealth mode without the IT team's knowledge. Others want their IT staff to be involved.

Compliance assessments require a significant amount of collaboration with your staff because the process will include a review of your non-technical as well as your technical security policies. This means that HR and department heads will need to be involved.

Whatever the security assessment, we'll guide you through a process that has four general phases that encompass data discovery, analysis, report preparation, and review.
Phase 1: Access and Document Gathering

You provide us with network access and documentation.


Depending on the type of assessment you need, we may install tools to execute scans or get interviews scheduled to assess policies and procedures.


These tools take time, so they'll run for a few days to a few weeks, depending on the size and complexity of your network.

Phase 2: Data Collection

Information is collected from the scanning software.


We'll schedule a visit to your facility to learn about your processes, interview employees to assess secure behavior, and evaluate physical security as it relates to network access.

Phase 3: Report Preparation

Findings will be assembled in a Gap Analysis or IT Security report.


Recommendations for cybersecurity improvements will be included along with action items and priorities for next steps. That way, it's clear to the executives and stakeholders where the holes are and what needs to be done moving forward.

Phase 4: Delivery and Review

You'll get a high-level executive summary and detailed reports that we'll review together and answer your questions.


You'll get a clear picture of your security posture and insights you can use whether you work with us in the future or not.
What Our Clients Are Saying
They've made it easier than ever before.
VC3 has made it easier than ever before for our local government to serve our citizens by providing us with modern web tools and a team of talented and courteous professionals. Our website had integrity and purpose and is utilized by staff and citizens alike for most public information and service needs. Thank you VC3! You rock!
We hadn't seen anyone like VC3 before.
I was pleasantly surprised by VC3's remote IT support and how well it served our city. We learned the hard way that we needed a vendor that helped us stay secure from ransomware and cyberattacks, update and patch everything constantly, and stay on top of IT issues. With VC3, everything is getting done. You don't know what you're missing if you've never seen it before—and we hadn't seen anyone like VC3 before.
Captain Jeff Swain
Isle of Palms Police Department, SC
Typical Scope of Work for a Network and Cybersecurity Assessment
We'll perform a comprehensive review of the following areas:
Network Architecture and Protections
Server Environment
Workstation Management
Inbound Firewall Configurations
Outbound Firewall Configurations
Evaluate Effectiveness of Patch Management Tools
Evaluate Antivirus and Anti‐Spyware Tools
IT-Related Administrative Control Process Review
Shared Permissions Review
Internal Vulnerability Scan
Anomalous Login Detection
Security Policy Assessment
Backup, Restoration, and Disaster Recovery Planning
Physical and Environmental Security
VC3 keeps your organization protected and prepared.
1,100+ municipalities and 700+ businesses turn to VC3 to get out of the IT trenches and back to working on what matters.
29 +
Years
of Experience Evolving with the Threat Landscape
11 +
Years
Average Relationship Tenure
96 %
Customer Satisfaction
450 +
Employees
98% of Employees Are Technical
The capacity, skill set, and experience to help you AIM higher.
Fast Deployment

A streamlined assessment process that quickly evaluates your organization's vulnerabilities and security gaps.

Customized Approach

Cyber experts who understand your unique organization that requires more than a check-the-box approach that caters to the masses.

Practical Innovation + Costs

Right-sized assessments with predictable costs that are tailored to your organization's unique requirements.

Strategic Consulting

Get a forward-thinking partner that helps you evaluate your options, identify vulnerabilities, and stay protected.

Actionable Insights + Takeaways

Our easy-to-understand scorecards highlight your organization's security gaps and ways to bridge them.

Decreased Vulnerabilities

Increased security readiness and specific tactics that help you improve your organization's cybersecurity foundation.
Our approach to technology enables your organization to AIM Higher.
Lots of companies can set up your laptops or manage your infrastructure. In order to contend with today's challenges, you need more than a break-fix vendor with a "24/7" helpdesk ticket to nowhere. You need a proactive partner that stops the issues before they start. That's where VC3 comes in.
Let's talk about how VC3 can help you AIM higher.