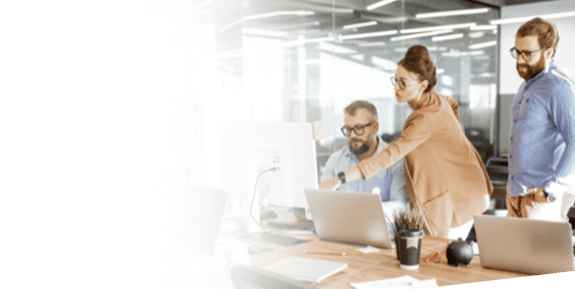 Managed Services
Get IT out of sight, out of mind, and most importantly, out of your way.
Start Loving Your IT Experience
You've got plenty of things to worry about. Information technology shouldn't be one of them. Organizations trust us to guide them through the complicated world of IT.
Partner with VC3 and take IT off your plate.
Get Exceptional IT Support at a Low, Fixed Monthly Cost
Technology has the power to catapult your organization forward when utilized effectively. With the right IT managed services company by your side, your employees get the help they need when they need it, you can see a clear picture of your IT future, and you can rest assured knowing everything IT-related is handled.
Wouldn't it be nice if technology JUST WORKED?
One of the things we hear most from people before they become a client is, "I just want it to work!"

That's what we do. We make technology work for your organization.

When technology is proactively maintained and supported, IT becomes a propeller instead of an anchor.
The capacity, skill set, and experience to help you AIM higher.
Fast Deployment

A streamlined onboarding process that ramps up your technology as quickly as possible.

Capable, Responsive Support

100% North American-based team quickly resolves most issues remotely, with engineers close by to provide onsite support when needed.

Predictable Costs

We help you avoid bloated solutions that drive unpredictable costs.

Strategic Consulting

Get a forward-thinking partner that helps you evaluate your options and create efficiencies.

Practical Innovation

Right-sized technology solutions tailored to your organization's unique requirements.

Proactive, Long-Term View

Strategic IT decisions that keep you efficient and current today AND tomorrow.
Our approach to technology enables your organization to AIM Higher.
Lots of companies can set up your laptops or manage your infrastructure. In order to contend with today's challenges, you need more than a break-fix vendor with a "24/7" helpdesk ticket to nowhere. You need a proactive partner that stops the issues before they start. That's where VC3 comes in.
1,100+ Municipalities and 700+ Businesses Turn to VC3 to Get Out of the Trenches of IT and Cybersecurity
VC3 gets IT out of sight, out of mind, and out of your way.
<2
Hour
Onsite Response Time for Critical Issues
87 %
Average Reduction
Response Time + Onsite Support
24/7
Support
From a Team of 100% North American-Based Experts
Let's talk about how VC3 can help you AIM higher.