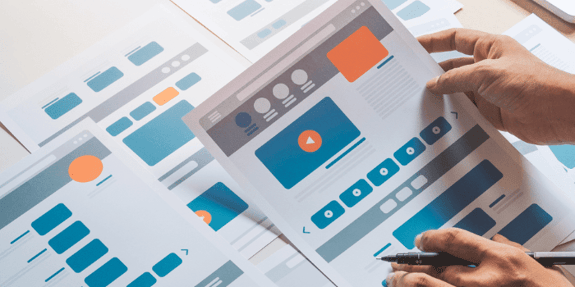 Application Development
When off-the-shelf doesn't meet your business needs
Eliminate redundant tasks, reduce human error, ensure data integrity, and integrate software systems.
Organizations turn to VC3 for
Application Development when they...
Require custom software applications and solutions to meet their specific business needs.
Need a partner who understands Microsoft SQL Server, Microsoft 365, Azure, and more.
Need a partner to improve efficiencies as business processes change over time.
Have a current software need but aren't sure if they need a custom-built solution or a solution that's already on the market.
VC3 can take your business process and automate it through the development of custom software that meets your specific business needs.
Whether through integrating existing line of business applications or creating completely new custom applications, VC3 can ensure that you have a solution to support your organization.
Replace old systems

Struggling with an old legacy system that is working against you, rather than for you? We can help you assess your current needs, evaluate options, and develop a modern system that eliminates any ongoing struggles or issues with aging software.

Integrate systems

Over time, adding systems leads to unnecessary complexity and redundancy. Siloed applications that don't talk to each other can really hurt your productivity, collaboration, and efficiency. We can help you integrate IT systems to ensure that your investments are maximized and you can more efficiently use what you have.

Extend off-the-shelf software

Sometimes, off-the-shelf software has its limitations—and those limitations can hinder your growth and productivity. Instead of investing in entirely new software, you may be able to extend your application with a little help from VC3. We can help you add features and functionality that you're currently missing.

Consulting services

We will never make a knee-jerk decision that you need a new custom application. Instead, we want to ensure you are making the best decision. We can consult with you during your decision-making process about a new application, help you evaluate options, and ask vendors the right questions.
What Our Clients Are Saying
They've made it easier than ever before.
VC3 has made it easier than ever before for our local government to serve our citizens by providing us with modern web tools and a team of talented and courteous professionals. Our website had integrity and purpose and is utilized by staff and citizens alike for most public information and service needs. Thank you VC3! You rock!
VC3 gets IT out of sight, out of mind, and out of your way.
1,100+ municipalities and 700+ businesses turn to VC3 to get out of the IT trenches and back to working on what matters.
24/7/365
Support
From a Team of 100% North American-Based Experts
11 +
Years
Average Relationship Tenure
450 +
Employees
98% of which are technical
The capacity, skill set, and experience to help you
AIM higher.
Fast Development + Deployment

We tailor our development process to your project, allowing us to deliver enterprise-level applications quickly and efficiently.

Capable, Responsive Support

Our 24/7/365 North American-based service desk is there to help with your technical issues, questions, and more.

Practical Innovation + Costs

We create your custom application using an efficient process that keeps costs low and quality high.

Technical Expertise

Our team of developers is devoted to maintaining a high level of expertise in the latest technologies and development practices.

Customized Acceptance Testing

We evaluate your application in real business scenarios to ensure it meets your unique requirements, allowing for refinement and quality assurance.

Long-Term Partnerships

VC3 is here after your application launches to help you improve efficiencies as business processes change over time.
Our approach to technology enables your organization to AIM Higher.
Lots of companies can set up your laptops or manage your infrastructure. In order to contend with today's challenges, you need more than a break-fix vendor with a "24/7" helpdesk ticket to nowhere. You need a proactive partner that stops the issues before they start. That's where VC3 comes in.
Let's talk about how VC3 can help you AIM higher.