VC3 Careers
Whether you're a student or a seasoned professional, we're a growing company at the forefront of the technology industry. And there's a lot to be excited about.
We pride ourselves on making IT personal, making IT easy, and getting IT right. And it all starts with our talented team that's committed to raising the bar.
It's Not About the Computers — It's About the People
At VC3, client success comes from the teamwork of a whole group of dynamic professionals with different skills.

Our mission is to make our clients' technology experience fast, friendly, and frustration-free.
Making that happen is directly tied to the personal and professional success of our remarkable employees who work collaboratively to bring the highest level of IT expertise to our clients.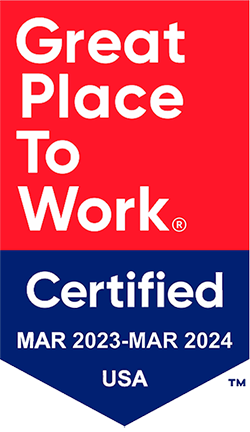 Passionately Curious​

We challenge the status quo and aim for continuous improvement and constant learning.

Serve as One

We believe that together, we are greater than the sum of our individuals and that teamwork is essential to success.

Own It

We have the courage to do what's right, the resolve to take responsibility, and the grit to cross the finish line.

Go Beyond

We take that extra step to create moments that are unexpected but appreciated.
Why Work at VC3?
Be part of a strong culture.
We foster an open, entrepreneurial culture that fuels your enthusiasm, promotes your personal growth, and celebrates achievement.
Take advantage of growth opportunities.
We're a market leader in IT services with over 29 years of experience. You'll work shoulder to shoulder with the best and brightest, leveling up your skills.
Find purpose and AIM higher.
Feel pride in the work you do and the people you serve. We help the most underserved industries solve problems and achieve more with reliable, secure, and powerful technology solutions.
What It's Like to Work at VC3
Advance Your Career & Make an Impact
I love growing, learning, and doing new things. When I arrived at VC3, I was bombarded with knowledge all around me, and it was everything I had hoped for.
Amber, Client Success Manager
We're problem solvers who are always learning and aren't afraid of the unknown.
My favorite part of my job is putting my head down and digging into a complex technical issue. It's so rewarding to study a problem, learn it, digest it, figure out a solution, and execute it so the problem is fixed.
Bradley, Systems Technician
We understand and appreciate the impact that we have on client success.
If our clients' network and systems aren't running, they're not making money. So it gives us a sense of pride to know that we're really helping companies be able to deliver to their customers.
Erica, Client Relationship Manager
Further your career by developing professional skills and expanding knowledge.
One of my favorite things about VC3 is that they're constantly promoting employee training and encouraging continued education. It's almost like they're paying you to make yourself better, and now I have a skill set that nobody can take away.
Philip, Professional Services Engineer
Employee input is welcomed and valued.
VC3 has opened the door for me to try new things. They've given me the tools I've needed, as well as a great team, and I'm truly thankful for the career paths they've opened for me.
Abel, Director of Operations
Employees are recognized for a job well done
Management often sends out messages or tells you that you did a really good job. Sometimes they'll mention things in our all-hands meetings each month. It's nice to see those messages so you know you're doing a good job and making a difference.
Shane, Systems Technician
We share our knowledge to help everyone succeed.
I felt right off the bat that VC3 had my back. You can ask a question and someone is always available to help you out. It's a great base of support.
Corey S., Systems Administrator
Extremely open to new ideas and processes
Prioritizes culture. Provides a fun environment where employees can work to their fullest and then relax with coworkers during breaks. Focuses on core values in hiring decisions to make sure that all employees are team players so the company can feel more like a family. Extremely open to new ideas and processes, even to those just starting at the company. Also completely transparent, with an open book policy that allows monthly company meetings that go over financial information.