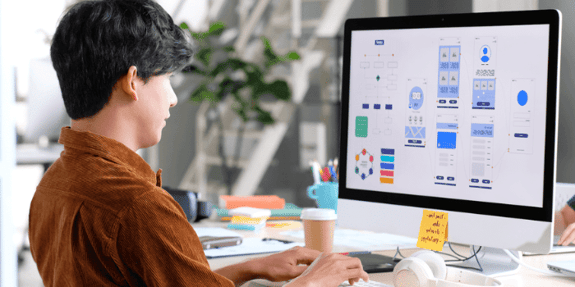 Website Design + Hosting
A secure, modern online presence.
Get an updated, user-friendly website with features that make it easy for residents and customers to find information and do business with you.
Organizations turn to VC3 for
Website Design + Hosting when they...
Want to keep their website modern, secure, and user-friendly.
Have limited internal resources and need an easy-to-update, responsive website.
Need website requests and issues quickly addressed.
Need to comply with ADA Section 508 requirements (using standards set by WCAG 2.0AA).
Have websites needing onsite forms, payment systems, and other feature integrations.
We provide a modern, custom-designed website that looks good and delivers the information your residents need.
Our website platform also features the ability to offer online payments and offers a user-friendly backend system so that you can add and update website content yourself.
A new, modern, fresh, customized design

Many towns and cities suffer online with an old, obsolete looking website that may work poorly. We quickly provide you a fresh, modern look while still providing all the information you want to communicate to residents.

Unlimited webpages

Have as many pages as you want. There's no limit.

Upload your own content

You can upload and manage your own content—and we'll still be around to help upload your content if needed. Our website platform is easy-to-use, and we can train your staff to use it.

Online forms and payment capability

We help you offer service options such as online payments and online transactions so that residents and businesses can pay their bills and conduct business online. No matter the size of your town or city, we help you set up online payments and transactions quickly, securely, and compliantly.

Maintenance and support

We provide ongoing technical maintenance, patching, updates, and helpdesk support.

Employee training and adoption

We'll train your employees how to use your new website, keeping it non-technical and practical. We also help with strategies around adoption to make sure your investment is paying off.
What Our Clients Are Saying
VC3 has made it easier than ever before.
VC3 has made it easier than ever before for our local government to serve our citizens by providing us with modern web tools and a team of talented and courteous professionals. Our website had integrity and purpose and is utilized by staff and citizens alike for most public information and service needs. Thank you VC3! You rock!
We hadn't seen anyone like VC3 before.
I was pleasantly surprised by VC3's remote IT support and how well it served our city. We learned the hard way that we needed a vendor that helped us stay secure from ransomware and cyberattacks, update and patch everything constantly, and stay on top of IT issues. With VC3, everything is getting done. You don't know what you're missing if you've never seen it before—and we hadn't seen anyone like VC3 before.
Captain Jeff Swain
Isle of Palms Police Department, SC
VC3 gets IT out of sight, out of mind, and out of your way.
1,100+ municipalities and 700+ businesses turn to VC3 to get out of the IT trenches and back to working on what matters.
24/7/365
Support
From a Team of 100% North American-Based Experts
11 +
Years
Average Relationship Tenure
87 %
Average Reduction
In IT Incidents After 3 Months with VC3
The capacity, skill set, and experience to help you
AIM higher.
Fast Deployment

Quickly ramp up your website through our streamlined onboarding process and a team of design, development, and QA experts.

Capable, Responsive Support

Our 24/7/365 North American-based service desk is there to help with your website issues, questions, and more.

Practical Innovation + Costs

Right-sized websites with predictable costs that are tailored to your organization's unique requirements.

Strategic Website Consulting

Get a forward-thinking partner that helps you create and maintain a modern, flexible, and user-friendly website.

Data-Driven Improvements

Get actionable insights from monthly site audits and Google Analytics reporting that keep your site relevant, user-friendly, and functional.

Future-Proofed Solutions

Get a redesigned site every four years with ongoing support and supplemental training along the way.
Let's talk about how VC3 can help you AIM higher.