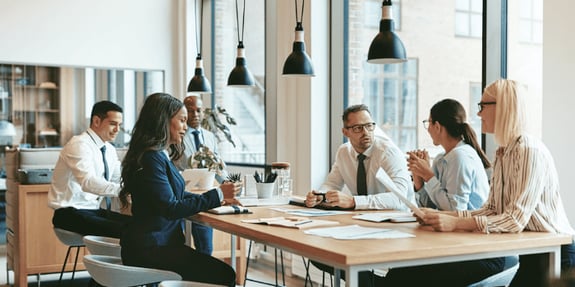 SharePoint Consulting + Records Management
Drive simplicity, efficiency, and secure collaboration.
Make intranets and extranets work for your organization - instead of against it.
Organizations turn to VC3 for
SharePoint Consulting + Records Management when they...
Have disorganized information creating inefficiencies for their organization.
Are concerned about how employees are sharing confidential information.
Lack best practices and want to get more from their current intranet or extranet.
Lack strategic insights for improving their records management system.
Want to centralize and organize documents spread across filing cabinets, file shares, and public mail folders.
Centralize documents, retain records, and streamline workflows—with VC3 as your guide.
End-to-End Custom Solutions

No off-the-shelf purchase, left for you to figure out. We will review your current business processes and pain points, evaluate your options, and build the right solution for you. Then, we set up, install, deploy, customize, and manage your solution.

The Power of SharePoint

SharePoint is a robust, modern records management system that helps you organize, search, access, and retrieve documents in a more efficient way.

Automatic Application of Records Retention Schedules

Are your records retention schedules automatically applied to documents so that you consistently follow laws and regulations? We can help you enforce policies such as archiving, retention, authorization, and deletion with a combination of automation and oversight.

Maintenance and Support

We provide ongoing technical maintenance, patching, updates, and helpdesk support.

Employee Training and Adoption

We'll train your employees how to use your new solution, keeping it non-technical and practical. We also help with strategies around adoption to make sure your investment is paying off.
What Our Clients Are Saying
We hadn't seen anyone like VC3 before.
I was pleasantly surprised by VC3's remote IT support and how well it served our city. We learned the hard way that we needed a vendor that helped us stay secure from ransomware and cyberattacks, update and patch everything constantly, and stay on top of IT issues. With VC3, everything is getting done. You don't know what you're missing if you've never seen it before—and we hadn't seen anyone like VC3 before.
Captain Jeff Swain
Isle of Palms Police Department, SC
Their knowledge and timing are impeccable.
Regarding VC3's day to day troubleshooting, their knowledge and timing are impeccable. Most of the time their IT staff can take control of our workstations and fix problems within minutes. More complex problems that require onsite staff are handled in short order. The staff is very pleasant and patient to work with each time we call. We receive calls from them to check up on us from time to time once an issue is resolved. Response time to emails and chats is almost immediate. We are very happy with our choice and feel that the service provided is well worth the monthly fee.
Jason Hall
City Manager, City of Lyons, GA
VC3 gets IT out of sight, out of mind, and out
of your way.
24/7/365
Support
From a Team of 100% North American-Based Experts
11 +
Years
Average Relationship Tenure
87 %
Average Reduction
in IT Incidents after 3 Months with VC3
The capacity, skill set, and experience to help you
AIM higher.
Fast Deployment

A streamlined onboarding process and document migration tools that ramp up your technology as quickly as possible.

Capable, Responsive Support

Our 24/7/365 North American-based service desk is there to help with SharePoint issues, questions, and more.

Practical Innovation + Costs

Right-sized solutions with predictable costs that are tailored to your organization's unique requirements.

Strategic Consulting

Get a forward-thinking partner who creates custom solutions that keep you efficient and meet the unique needs of your organization.

Data-Driven Improvements

Continually optimize your site or system based on data-driven analytics, assessments, and reports.

Streamlined IT + Reduced Issues

Get ongoing support and supplemental training post-launch to ensure your site continues to meet your needs.
Our approach to technology enables your organization to AIM Higher.
Lots of companies can set up your laptops or manage your infrastructure. In order to contend with today's challenges, you need more than a break-fix vendor with a "24/7" helpdesk ticket to nowhere. You need a proactive partner that stops the issues before they start. That's where VC3 comes in.
Let's talk about how VC3 can help you AIM higher.