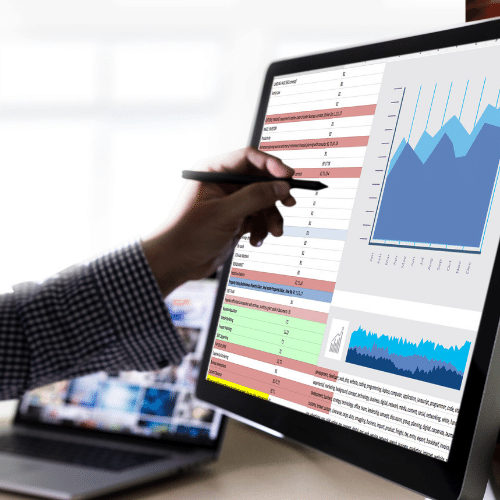 Power BI
Business Intelligence and Reporting
You have the data. We help you use it to make informed decisions that drive better outcomes for your organization.
Organizations turn to VC3 for
Power BI when they...
Need to track KPIs across disparate tools or data sets.
Need a partner to help them improve efficiencies as business processes change over time.
Want more visibility around how teams are tracking against organizational goals.
Want to use data to identify areas of strength and areas needing improvement.
Want to measure, compare, and track performance trends over time against standard benchmarks.
Track and evaluate your metrics against benchmarks, spot areas of strength and opportunities for improvement, combine data from multiple systems into a single dashboard, and spend more time making impactful decisions.
The Power of Power BI

PowerBI is an industry-leading, comprehensive business intelligence platform. Integrated into Microsoft 365, it allows you to combine multiple systems into a single dashboard or report. Nearly any data source can be loaded and you can access reports from any device.

Custom Dashboards and Reports

No off-the-shelf purchase, left for you to figure out. We will discuss your needs, access and connect your data sources to PowerBI, load your data into reports, and verify your KPIs before producing your custom dashboards and reports.

Maintenance and Support

We provide ongoing technical maintenance, patching, updates, and helpdesk support.

Employee Training and Adoption

We'll train your employees how to use your new dashboards and reports, keeping it non-technical and practical. We also help with strategies around adoption to make sure your investment is paying off.
VC3 gets IT out of sight, out of mind, and out of your way.
1,100+ municipalities and 700+ businesses turn to VC3 to get out of the IT trenches and back to working on what matters.
24/7/365
Support
From a Team of 100% North American-Based Experts
11 +
Years
Average Relationship Tenure
87 %
Average Reduction
in IT Incidents after 3 Months with VC3
The capacity, skill set, and experience to help you
AIM higher.
Specialized Expertise

Experts that help you use data and technology to increase efficiencies and achieve organizational goals.

Increase Employee Buy-In

Extract key performance indicators from your existing systems and make them visible and usable for your employees.

Practical Innovation + Costs

Right-sized performance and productivity solutions that keep costs low while improving organizational outcomes.

Strategic Alignment

Get a forward-thinking partner that helps you align your metrics with your organization's strategic direction.

Results-Oriented IT Support

Measure, compare, and track performance trends over time against standard benchmarks.

Long-Term Partnerships

VC3 provides ongoing support and helps you improve efficiencies as your business changes over time.
Our approach to technology enables your organization to AIM Higher.
Lots of companies can set up your laptops or manage your infrastructure. In order to contend with today's challenges, you need more than a break-fix vendor with a "24/7" helpdesk ticket to nowhere. You need a proactive partner that stops the issues before they start. That's where VC3 comes in.
What Our Clients Are Saying
They placed us in a position to better service our staff.
When it comes to establishing an effective IT infrastructure, consulting experienced professionals is the first and most important step. It is one we are glad to have taken with VC3 as they placed us in a position to better service our staff and the residents of our city.
Police Chief Christopher Hodge
City of Auburn, GA
They've made it easier than ever before.
VC3 has made it easier than ever before for our local government to serve our citizens by providing us with modern web tools and a team of talented and courteous professionals. Our website had integrity and purpose and is utilized by staff and citizens alike for most public information and service needs. Thank you VC3! You rock!
Let's talk about how VC3 can help you AIM higher.