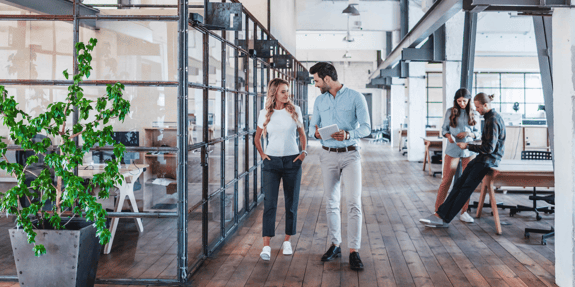 VC3 is the bar.
And we're raising
it every day.
We get IT out of sight, out of mind, and out of your way.
We keep you secure
Today, the world of cybersecurity is scary. Cyberattackers look for any weak spots. Ransomware deploys unexpectedly and shuts down operations. Permanent data loss can result from an ill-timed click of a mouse. Technology often feels unsafe, and it's just another thing to worry about.
VC3 helps you rest easy knowing that you're protected today and prepared for whatever tomorrow brings. We protect your organization with right-sized cybersecurity solutions, measure your organization's cybersecurity health, identify gaps, ensure compliance, and make sure your employees are trained on how to spot the signs of an attack.
VC3's cybersecurity experts spend time understanding your organization's unique needs and areas of vulnerability.
We replace each problem with the right-sized cybersecurity solutions that fill your gaps and protect your organization's IT infrastructure.
Once you're stable, our team monitors your environment 24/7/365.

We have sector-specific focus
Most MSPs offer everything to everyone. They may know the tech, but without a deep understanding of your organization, they're missing a critical piece of the puzzle.
We know that your not-so-standard organization requires more than a templated, check-the-box approach that caters to the masses. We've spent the last 29 years helping municipalities and financial services organizations evolve with the technology and threat landscape.
Our knowledge extends beyond technology and into your regulatory landscape, your budgeting cycles, your workflows, and your critical concerns.
Municipal leagues endorse our IT products and services to meet the needs of member towns and cities.

We sit on the boards of several credit unions and banks while also partnering with many financial services associations.

We grow with you
You've got questions, we've got answers. And our answers offer clarity and peace, not confusion and jargon.
VC3 evolves with you and meets you where you are. You get good people…
Who are there for you when you need them.
Who translate their deep expertise into practical, straightforward solutions.
Who balance a personal touch with the capacity to serve.
Who don't just tell you what to do but take the time to explain why you should do it and how it will help you—in terms you can actually understand.
Did you know…our average customer relationship is 11 years (which is longer than most other have been in business)?

We automate relentlessly
Many organizations waste time and money on manual processes, burning up valuable hours on tedious rather than creative or strategic work. Also, today's cybersecurity and IT activities are fast-paced, with too much data for people to process alone. Without automation, it's easy to overlook critical cybersecurity and IT alerts due to human error.

VC3 leverages automation throughout all our solutions—from cybersecurity to managed services. Automation across our IT processes, services, and tools ultimately equals cost savings and productivity for your organization.
VC3 automates day-to-day tasks with the latest innovative technology to allow people to do what they do best—be creative, strategic, and collaborative.
As we continually mature our automation, you benefit from improved and streamlined productivity.
Our helpdesk acts as air traffic control for your event tickets. Automation streamlines the way we handle tickets and matches your need with the most qualified staff member available.
Our approach to technology enables your organization to AIM Higher.
Lots of companies can set up your laptops or manage your infrastructure. In order to contend with today's challenges, you need more than a break-fix vendor with a "24/7" help desk ticket to nowhere. You need a proactive partner that stops the issues before they start. That's where VC3 comes in.
Assess
We begin by understanding your current state and then work with you to identify gaps and possible solution paths.
Improve
We replace each problem with a solution, filling those gaps and stabilizing your technology infrastructure.
Manage
Once you're stable, we strive to make IT an invisible enabler for your organization. We'll take care of everything from updates and patches to end user support, cybersecurity, and data backups.
Higher
From strategic guidance on bigger picture digital transformation initiatives to managed security, a modern website, insightful reporting, and dashboards for your teams, VC3 will help you AIM Higher with technology.
1,100+ municipalities and 700+ businesses turn to VC3 to get out of the trenches of IT and cybersecurity.
87
%
Average Reduction in IT Incidents
When it comes to proactive management of your technology infrastructure, VC3 is the bar. And we're raising it every day.
Let's talk about how VC3 can help you AIM higher.