Auburn, Georgia's Body Camera Technology
Auburn, Georgia's Police Chief Carl Moulder and Lt. Chris Hodge Talk Body Camera Technology
Industry: Municipality
Location: Auburn, GA
Population: 8,094
After struggling with technological limitations related to in-car cameras for many years, the City of Auburn moved to body cameras in 2013. However, the city's body camera video technology introduced new problems such as where to store all that data and the expense related to that storage. After three years of using cloud storage, the City of Auburn moved to an on-premise system to save on fees. Coupled with VC3's video archiving solution, the city's new system saved them money—freeing up funds to purchase more body camera units.
In this Q&A, Auburn, Georgia's Police Chief Carl Moulder and Lt. Chris Hodge talk about these technology challenges and how VC3's vendor management helped them resolve these issues.
Before you implemented body cameras, what technology issues did you have to think about and anticipate to make the implementation a success?
We had in-car cameras for several years before replacing them with body cameras in early 2013. The in-car camera had serious limitations for video recording all police action, and the audio capability often failed when officers entered a residence or building. With the move to body cameras, we had to consider the increased storage needs of video/audio data because officers would be videoing all police action. The decision was made to use cloud storage. Our policy had to be revised and updated, but that was not a large task.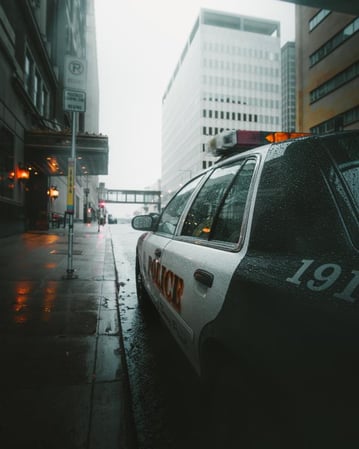 After three years of cloud storage, the decision was made to convert to in-house storage of the video/audio data. This also required the purchase of a new camera system. To successfully make the transition from our current cloud services provider, we had to procure our own server with enough storage to house videos of the size and capacity we produced. We also had to consider software that would enable us to upload and manage the videos without compromising chain of custody and evidence requirements.
From a technology standpoint, what was the most important thing you were looking for in a body camera system?
We wanted to move away from a cloud-based storage system and integrate a self-storage system within our own network. This saved on cloud storage fees, which were considerable, and allowed us to invest more money into the acquisition of more body camera units that could be assigned to an individual officer. Before, officers had to share body cameras because we didn't have enough to go around.
What unexpected technology challenges came up when you implemented body cameras?
We experienced issues with cameras not communicating with the docking station, which in turn inhibited videos from uploading properly. The managing software is a crucial element for self-storage and maintaining videos. When this wasn't syncing correctly, we experienced hardships. Manufacturers must understand how critical it is that their whole system (camera, software, docking station, storage medium, managing software) work flawlessly, as it's better to not have a system than to have a system that doesn't work.
How did Manage Essentials' vendor management and video archiving components help you with your body camera technology?
Our IT vendor was very instrumental in helping our department determine the best system for our needs while understanding our size and budget. Their assistance was critical in the implementation of the new software and cameras as well as the migration of existing videos to our new in-house server. Our vendor had the unenviable task of organizing thousands of videos into a manageable and retrievable arrangement. Without this structure, we would be unable to efficiently retrieve and disseminate these videos to the appropriate parties. Our IT vendor continues to work with us to ensure that our system functions correctly and efficiently, recommending upgrades as needed.
For other cities either implementing body camera technology or already using it, what technology advice would you give them?
Focus on getting quality software that will manage the videos. While the camera capabilities are important, without an efficient managing software the in-house storage endeavor will fail. I highly recommend involving your IT provider from the very beginning. They can keep you from making huge IT-related errors. Again, I believe it's better to not have a system at all than to have a system that doesn't work properly.
---
A few important points are worth noting from this interview:
Transitioning to a new technology requires research and assessment to determine the right fit. All body camera technology is not the same. The City of Auburn leveraged VC3 to help determine the right technology and software for the city's needs and budget.
Technical problems will inevitably arise with new hardware and software.

When this happens, it's best to have an experienced IT partner on hand to work with the hardware and software vendor on issues ranging from implementation to migrating data from one system to another.
Ongoing monitoring and maintenance is critical.

VC3

monitors and maintains the city's body camera technology, software, and data to proactively watch out for any problems. VC3 also upgrades and patches software while ensuring that the systems work.
A city's technology partner can help ensure compliance with the law.

Body camera video data contains sensitive, confidential information and it's often needed for investigations. That information needs to be handled with care like any open record. Body camera video data needs to be stored, findable, and accessible.
Storage costs can be brought down by examining creative solutions.

For the City of Auburn, it made sense in their situation to bring their data storage back in-house to lower storage costs. They also complemented that strategy with Manage Essentials' video archiving feature which helped the City of Auburn archive data into the cloud. That solution provides them unlimited storage at a fixed cost and protects that data as part of their disaster recovery strategy.
Exploring body camera solutions? Having issues with your existing body camera technology? Reach out to us today.
Originally published in September 2017.
Police Chief Christopher Hodge
City of Auburn, Georgia
When it comes to establishing an effective IT infrastructure, consulting experienced professionals is the first and most important step. It is one we are glad to have taken with VC3 as they placed us in a position to better service our staff and the residents of our city.
Let's talk about how VC3 can help you AIM higher.