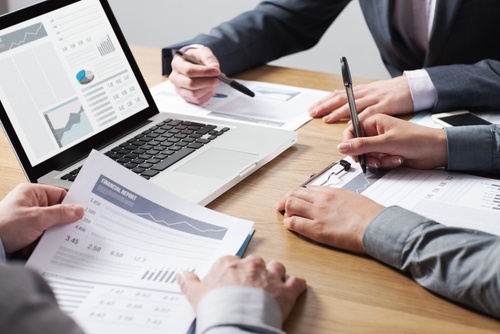 Financial Services
Get the support you need to clarify and manage enterprise risk while maintaining compliance.
Proactive IT Decreases Technology Costs and Risks
In the race to stay competitive, many organizations have been adding technology after technology, but instead of enabling their growth, it has increased costs and risks. It doesn't have to be that way. A proactive approach to IT services can actually help you decrease costs, better manage risks, and be a driver for your growth allowing you to:
Meet customer expectations for digital interactions
Maintain a strong security defense and comply with regulations
Streamline operations and maximize efficiency
VC3 has spent the last 29 years making IT personal, making it easy, and getting IT right
When you work with us, you get a proactive partner who understands your critical concerns.
VC3 has the capacity, skill set, and over 29 years of experience helping financial services organizations AIM higher.
Risk Management Expertise

Our team's enterprise risk management knowledge enables your organization with the technology and policies to mitigate risk and remain compliant.

Deep Relationships with the Financial Services Industry

We sit on the boards of several credit unions and banks while also partnering with many financial services associations.

Fast Resolution Time

We understand that downtime is unacceptable and technology should not be a barrier when doing business. Our average minutes to resolution is 45 minutes, which minimizes disruption.

Specialized, Strategic Expertise

Our Strategic Advisors have 10-15 years of experience helping business leaders have clarity and confidence in their technology strategy.

Proactive, Long Term View

We're here to solve the issues of today AND prevent the issues of tomorrow.

Practical Solutions, Predictable Costs

Our solutions are designed to fit the unique needs of your business.
Your IT Business Partner
Some of the ways we help financial services organizations include:
Fast response and 24/7 support
Maximizing cybersecurity with layered defenses
Building a solid, scalable infrastructure
Designing systems to optimize internet connectivity
Establishing data backup and disaster recovery procedures
Interpreting technical aspects of regulatory compliance
Managing mobile devices for security
Creating time-saving workflows
Enabling your workforce to work from anywhere
Unlimited support desk calls
Without IT, Customer Loyalty is Threatened
Reality is, customer loyalty in the financial services industry isn't what it used to be. The temptation to jump to one of your competitors because they can offer a better digital experience is real.
Embrace Technology as a Competitive Advantage
We can help you set yourself up to embrace technology and use it to grow your business. Take the first step and explore how you can do IT right with the VC3 team by your side.
Our approach to technology enables your organization to AIM Higher.
Lots of companies can set up your laptops or manage your infrastructure. In order to contend with today's challenges, you need more than a break-fix vendor with a "24/7" helpdesk ticket to nowhere. You need a proactive partner that stops the issues before they start. That's where VC3 comes in.
Deep commitment to high quality solutions and services.
Frontline Education is pleased to continue the strong, collaborative relationship that Excent Corporation enjoyed with VC3. VC3 s deep commitment to high quality solutions and services, along with their impressive skill sets, provides an important complement to the Frontline Education solutions. We look forward to working closely with VC3 as we continue to incorporate the Excent team into the Frontline Education family.
Frontline Education
Director
Over 700 businesses and financial institutions turn to VC3 to meet the challenges of today's complex technology + regulatory landscape.
45
Average Minutes to Resolution
11 +
Years
Average Relationship Tenure with Customers
Let's talk about how VC3 can help you AIM higher.