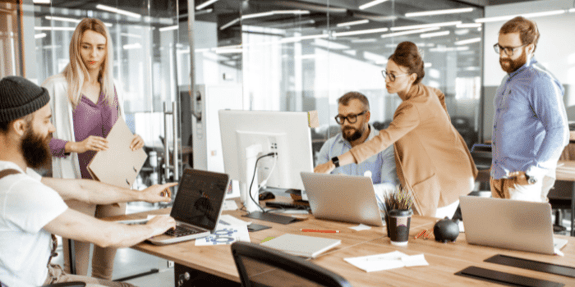 Insurance Organizations
IT support, security, and compliance services to protect your clients and your reputation.
Technology Enabled, Not Technology Hindered
With proactive IT management, it's possible to enable your people and your business with technology that helps you meet your goals for efficient and cost-effective management. The result is that staff get a better technology experience, they have more time for client work, and your company can provide a higher level of service.
Streamline processes while
improving client experience
Safely store and manage access to data
Enable your staff to spend more time with clients
VC3 acts as an extension of your internal team, giving you everything you need and nothing you don't.
Mitigating risk and modernizing technology environments are top of mind for insurance organizations. But it takes the right team, the right expertise, and the right solutions to do it.
Whether you need to establish an IT support strategy or supplement your internal IT team, VC3 has the capabilities and capacity to help you manage, protect, and accelerate.
VC3 has the capacity, skill set, and experience to help you AIM higher.
Capability + Capacity

IT strategies that modernize your IT infrastructure and help you do your job better.

Internal Efficiency

Co-managed support that works directly with your team and helps reduce friction.

Excellent Service

Insurance industry-experienced support desk that saves you time, deals directly with your IT vendors, and never leaves you on hold.

Proven Protection

Cyber offerings that meet the standards and expectations of the insurance industry to protect your clients and reputation.

Robust Solutions

Our robust technology capabilities provide insight into your data and ensure you can meet customer expectations.

Specialized Expertise in the Tools You Use

Experience with enterprise-level brokerage firms and applications like Epic, PolicyWorks, PowerBroker, and more.
Your IT Business Partner
Some of the ways that we help insurance organizations include:
Fast response and 24/7 support
Interpreting technical aspects of regulatory compliance
Maximizing cybersecurity with layered defenses
Managing mobile devices for security and data visibility
Optimizing use of cloud applications
Integrating data capture systems
Designing systems to optimize internet connectivity
Enabling staff to work from anywhere
Establishing data backup and disaster recovery procedures
Unlimited support desk calls
Inefficiencies Never Fix Themselves
Wouldn't you like to find and fix the root causes of the inefficiencies and IT issues that are stealing time away from your staff on a daily basis?
Alleviate the IT Burden
Learn how VC3 can give your company the IT results you need for efficient operations, and transform IT from a complicated burden into a powerful tool for success.
Our approach to technology enables your organization to AIM Higher.
Lots of companies can set up your laptops or manage your infrastructure. In order to contend with today's challenges, you need more than a break-fix vendor with a "24/7" help desk ticket to nowhere. You need a proactive partner that stops the issues before they start. That's where VC3 comes in.
They understand our space and what is important to an organization like ours.
"We have been very happy with their work. They understand our space and what is important to an organization like ours. We are pleased to continue on as clients for the foreseeable future."
Christine Sanderman
Executive Director, LESA
You need more than a break-fix vendor to contend with today's challenges. You need a proactive partner.
That's why 700+ businesses turn to VC3.
< 2
Hour
Response Time + Onsite Support
24/7
Support
From a Team of 100% North American-Based Experts
Let's talk about how VC3 can help you AIM higher.