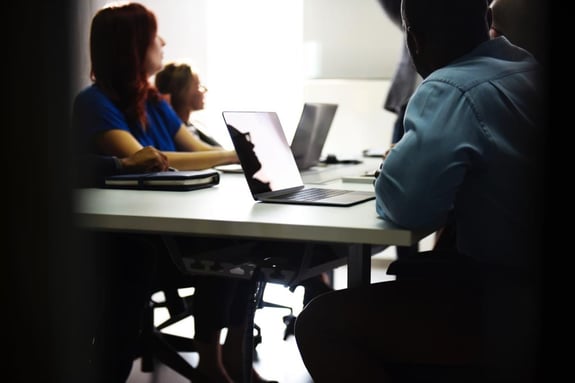 Security Awareness Training
Transform your employees into a defensive asset for your organization's cybersecurity.
Organizations turn to VC3 for
Security Awareness Training when they...
Feel like their employees could be the entry point for a cyberattack.
Need proof that their employees have gone through security awareness training in order to comply with laws and regulations.
Want to teach their employees how to spot an attack and what to do in the event of an attack.
Lack the proper security awareness knowledge, training, and reporting that's necessary for protecting their organization.
Have had an employee unknowingly compromise their organization.
Tools That Help You Reduce Risk While Building a Culture of Cybersecurity
Automated Phishing Tests

Identify people in your organization who are vulnerable to clicking on bad links and attachments.

Computer-Based Security Training

Provide employees with the latest cybersecurity trends, cyberattack methods, and ways to take action in making your organization less prone to a cyberattack.

Easy-to-Read Management Reports

Easily see employee strengths and weak spots—including employees who complete the training, successfully identify phishing emails, and learn more about cybersecurity over time.
What Our Clients Are Saying
We hadn't seen anyone like VC3 before.
I was pleasantly surprised by VC3's remote IT support and how well it served our city. We learned the hard way that we needed a vendor that helped us stay secure from ransomware and cyberattacks, update and patch everything constantly, and stay on top of IT issues. With VC3, everything is getting done. You don't know what you're missing if you've never seen it before—and we hadn't seen anyone like VC3 before.
Captain Jeff Swain
Isle of Palms Police Department, SC
Their knowledge and timing are impeccable.
Regarding VC3's day to day troubleshooting, their knowledge and timing are impeccable. Most of the time their IT staff can take control of our workstations and fix problems within minutes. More complex problems that require onsite staff are handled in short order. The staff is very pleasant and patient to work with each time we call. We receive calls from them to check up on us from time to time once an issue is resolved. Response time to emails and chats is almost immediate. We are very happy with our choice and feel that the service provided is well worth the monthly fee.
Jason Hall
City Manager, City of Lyons, GA
VC3 keeps your organization proactive and protected.
95 %
of All Successful Attacks Start in Email
1,800 +
Organizations
Turn to VC3 for Their IT and Cybersecurity
29 +
Years
of Experience Evolving with the Threat Landscape
The capacity, skill set, and experience to help you AIM higher.
Fast Deployment

A streamlined onboarding process that quickly trains and educates your employees.

Tailored Compliance Training

Customized training that's tailored to your unique systems, environment, and workforce's skill level.

Practical Innovation + Costs

Right-sized solutions with predictable costs that are tailored to your organization's security training needs.

Hybrid Workforce Security

Computer-based training and phishing tests that employees can access from any computer at any time.

Strategic Consulting

Get a forward-thinking partner that helps you evaluate your options, identify vulnerabilities, and stay protected.

Decreased Vulnerabilities

Ongoing phishing tests, security training, and reporting that help employees protect your sensitive data.
Our approach to technology enables your organization to AIM Higher.
Lots of companies can set up your laptops or manage your infrastructure. In order to contend with today's challenges, you need more than a break-fix vendor with a "24/7" help desk ticket to nowhere. You need a proactive partner that stops the issues before they start. That's where VC3 comes in.
Let's talk about how VC3 can help you AIM higher.