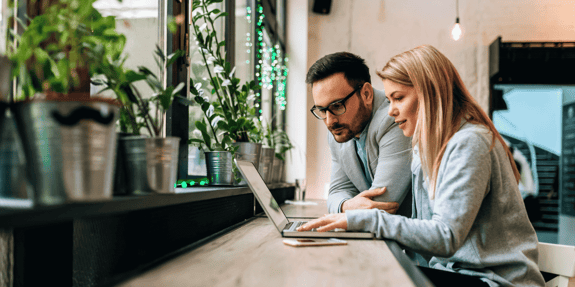 Manage Cloud
Reduce technology spend without compromising support or protection.
Organizations turn to VC3 for Manage Cloud when they...
Need to securely access their systems and data anywhere, anytime, and from any device.
Worry about the security and performance risks of moving to the cloud.
Need a 24/7 network operations center to monitor their hosted assets.
Want to eliminate expensive on-premises servers, hardware, and software.
Cloud Hosting Solutions
Powerful Options for Flexibility, Scalability, and Power
Manage Cloud Collaboration
We give you the cloud-based version of Microsoft Office 365—meaning no servers, and it's always up-to-date—and VC3-provided workstations.
For organizations that:
Want to streamline operations while enabling collaboration.
Need on-demand access for a remote or hybrid workforce.
Require a secure, centrally managed and compliant repository for documents.
Manage Cloud Performance
Complete cloud hosting including 24x7 support, hosted applications and desktops within the cloud, Microsoft 365, and VC3-provided workstations.
For organizations that:
Want to reduce CAPEX on costly hardware, software, and on-prem servers.
Want to remove security risks and improve disaster recovery capabilities.
Need strategic guidance around long-term technology planning and investments.
Manage Cloud Fusion
No more on-premises servers. Access all your applications over the internet—with full managed IT and cybersecurity support.
For organizations that:
Wish to move on-premise applications to the cloud, but no SaaS options exist.
Need on-demand access for a remote or hybrid workforce.
Want to reduce CAPEX on costly hardware, software, and on-prem servers.
So, you're thinking about going to the cloud?
Taking all your technology needs to the cloud might sound like the easiest and least expensive way to equip your people with what they need to do their jobs.
It can be really great, but the truth is, it's not that easy.
Migrating some or all your IT services to the cloud is a big decision, and it takes the right technology strategy to ensure you make good choices that align with your business processes.
The capacity, skill set, and experience to help you AIM higher.
Strategic Alignment

Get a dedicated strategic advisor who helps you align technology planning with your organization's most important strategic goals.

Capable, Responsive Support

24/7 support from a 100% North American-based team of technology experts.

Practical + Predictable Costs

Reduce CAPEX with predictable pricing that avoids expensive hardware costs, unplanned expenses, and ongoing maintenance costs.

Asset Protection

Securely host your data assets in enterprise grade data centers with our highly trained staff and regulatory compliant processes.

Streamlined IT + Reduced Issues

Get a proactive partner that simplifies your IT infrastructure and helps your organization reduce technology challenges.

Increased Efficiency

Employees can securely access your organization's systems and data anywhere, anytime, and from any device.
No More Excuses
The end of "My computer wasn't working so I couldn't get that done."
Occasional technology issues are inevitable. Files will accidentally be deleted. Passwords will be forgotten. When these things happen, your employees will have someone to call for help 24/7.
But they won't have to sit on hold for hours or wait around all day. When they call our Support Desk, they'll be talking to an engineer in 60 seconds on average who can start troubleshooting the problem.
Many problems can be resolved in less than 15 minutes.
Our Support Desk is staffed around the clock so you always have someone to call when you need help.
Control your IT Costs
Flat monthly IT costs. No more surprises.
Our managed IT support services are unlimited and all inclusive, so you'll get as much remote and onsite support as you need for one flat monthly cost.
We'll work together on annual and long-term budgets, so you'll know exactly how much you are going to spend on IT today and in the future.
Workstation refreshes, application upgrades, and other technology lifecycle changes will be tracked and planned in advance, so you aren't shelling out extra cash at the last minute.
What Our Clients Are Saying
We hadn't seen anyone like VC3 before.
I was pleasantly surprised by VC3's remote IT support and how well it served our city. We learned the hard way that we needed a vendor that helped us stay secure from ransomware and cyberattacks, update and patch everything constantly, and stay on top of IT issues. With VC3, everything is getting done. You don't know what you're missing if you've never seen it before—and we hadn't seen anyone like VC3 before.
Captain Jeff Swain
Isle of Palms Police Department, SC
Their knowledge and timing are impeccable.
Regarding VC3's day to day troubleshooting, their knowledge and timing are impeccable. Most of the time their IT staff can take control of our workstations and fix problems within minutes. More complex problems that require onsite staff are handled in short order. The staff is very pleasant and patient to work with each time we call. We receive calls from them to check up on us from time to time once an issue is resolved. Response time to emails and chats is almost immediate. We are very happy with our choice and feel that the service provided is well worth the monthly fee.
Jason Hall
City Manager, City of Lyons, GA
VC3 gets IT out of sight, out of mind, and out of your way.
1,100+ municipalities and 700+ businesses turn to VC3 to get out of the IT trenches and back to working on what matters.
87 %
Average Reduction
in IT Incidents after 3 Months
24/7
Support
From a Team of 100% North American-Based Experts
<2
Hour
Response Time + Onsite Support
450 +
Employees
98% of Employees Are Technical
Let's talk about how VC3 can help you AIM higher.