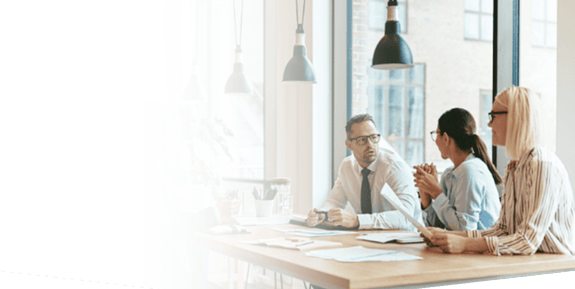 Manage Cloud Collaboration
Cloud-hosted applications, managed IT, and cybersecurity solutions provide a secure, compliant repository for your files that reduces hardware costs and drives collaboration.
Organizations turn to
Manage Cloud Collaboration when they...
Want to streamline operations while enabling collaboration.
Need on demand access for a remote or hybrid workforce.
Require a secure, centrally managed and compliant repository for documents.
Need strategic guidance around long-term technology planning and investments.
Want to reduce CAPEX on costly hardware, software, and on-prem servers.
Reduce your technology spend without compromising support or security.
Cloud Hosted Applications + Servers

Access all your documents and information in one place, anytime, anywhere. Through the cloud, VC3 provides Microsoft 365 and hosting for important applications critical to your organization. No more on-premises servers to manage and maintain, and you're always compliant and up-to-date.

24/7 Cybersecurity

Endpoint detection and response (EDR), 24/7 monitoring, and incident response helps you detect and respond to threats in your systems. You can also leverage advanced security features within Microsoft 365 including MFA, single sign on (SSO), and self service password resets.

24/7 Helpdesk

True 24/7 support for troubleshooting and resolving technical issues.

Hardware-as-a-Service

When computers reach end of life, Manage Cloud Collaboration can be a better financial option than buying new computers. Pay only for the devices you need. If an employee leaves, we collect the workstation and lower your monthly charge.

Central Document Repository

Make the lives of your staff much easier with anytime, anywhere access to information stored in a secure, centrally-managed, and compliant repository (SharePoint and OneDrive). Plus, employees can take full advantage of all the collaborative capabilities within Microsoft 365.
What Our Clients Are Saying
We hadn't seen anyone like VC3 before.
I was pleasantly surprised by VC3's remote IT support and how well it served our city. We learned the hard way that we needed a vendor that helped us stay secure from ransomware and cyberattacks, update and patch everything constantly, and stay on top of IT issues. With VC3, everything is getting done. You don't know what you're missing if you've never seen it before—and we hadn't seen anyone like VC3 before.
Captain Jeff Swain
Isle of Palms Police Department, SC
Their knowledge and timing are impeccable.
Regarding VC3's day to day troubleshooting, their knowledge and timing are impeccable. Most of the time their IT staff can take control of our workstations and fix problems within minutes. More complex problems that require onsite staff are handled in short order. The staff is very pleasant and patient to work with each time we call. We receive calls from them to check up on us from time to time once an issue is resolved. Response time to emails and chats is almost immediate. We are very happy with our choice and feel that the service provided is well worth the monthly fee.
Jason Hall
City Manager, City of Lyons, GA
VC3 gets IT out of sight, out of mind, and out of your way.
<2
Hours
Response Time + Onsite Support
85 %
Average Reduction
IT Incidents after 3 Months of Manage Cloud Collaboration
10-15
Years
Average Experience of VC3 Strategic Advisors
The capacity, skill set, and experience to help you
AIM higher.
Experienced, Credentialed Strategic Advisor

You're assigned a Strategic Advisor who helps you align technology planning with your organization's most important strategic goals.

Capable, Responsive Support

100% North American-based team with onsite support available in less than 2 hours.

Pay for What You Need

Eliminate hardware and consolidate applications into a single, integrated solution-paying only for what you need.

Fast, Frictionless Deployment

We will migrate and deploy everything - including the migration of all your SharePoint, OneDrive, and Microsoft 365 files.

Proactive Maintenance

VC3's 24/7/365 Network Operations Center is always proactively maintaining your systems.

No More Cyclical Hardware Replacements

With your data in the cloud, you move away from replacing on-premises servers on a 3-5 year cycle, allowing you to eliminate capital expenses from your budget.
Our approach to technology enables your organization to AIM Higher.
Lots of companies can set up your laptops or manage your infrastructure. In order to contend with today's challenges, you need more than a break-fix vendor with a "24/7" helpdesk ticket to nowhere. You need a proactive partner that stops the issues before they start. That's where VC3 comes in.
Flexible and Comprehensive
Managed Services Solutions
Let's talk about how VC3 can help you AIM higher.