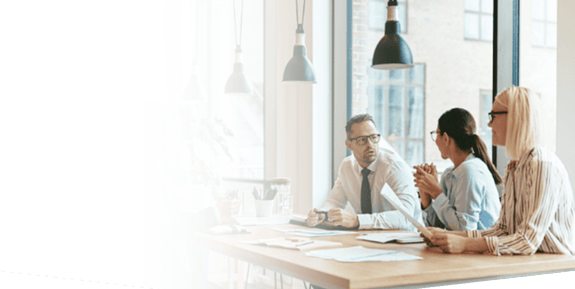 Manage On Premises
Managed IT, 24/7 proactive IT and cybersecurity monitoring, maintenance, support, and strategic planning
Organizations turn to VC3 for
Manage On Premises when they...
Have on-premises IT infrastructure but lack the expertise needed to manage it.
Require flexible managed support that can scale up and down with organizational needs.
Want staff to be productive instead of wasting time fixing IT issues.
Need greater visibility and strategic guidance around long-term technology planning and investments.
Have dealt with reactive IT vendors and want a partner who is more strategic and proactive.
Designed for Organizations That Want Simple, Cost-Effective, and Comprehensive IT Solutions
Strategic Advisor

Get detailed audit and compliance assistance alongside strategic recommendations around IT priorities, projects, and budgets.

24/7 Helpdesk

True 24/7 support for troubleshooting and resolving technical issues.

24/7 Cybersecurity

Endpoint detection and response (EDR), 24/7 monitoring, and incident response helps you detect and respond to threats in your systems.

Device, Server, and Application Maintenance + Support

We handle the monitoring of desktops, laptops, servers, applications, and more so that we can stop most issues before they start, and escalate the rest to experienced engineers in a timely manner.

Proactive System Maintenance + Data Backups

Our 24/7 network operations center proactively maintains your data backups, patch management, antivirus management, and more.
What Our Clients Are Saying
We hadn't seen anyone like VC3 before.
I was pleasantly surprised by VC3's remote IT support and how well it served our city. We learned the hard way that we needed a vendor that helped us stay secure from ransomware and cyberattacks, update and patch everything constantly, and stay on top of IT issues. With VC3, everything is getting done. You don't know what you're missing if you've never seen it before—and we hadn't seen anyone like VC3 before.
Captain Jeff Swain
Isle of Palms Police Department, SC
They've made it easier than ever before.
VC3 has made it easier than ever before for our local government to serve our citizens by providing us with modern web tools and a team of talented and courteous professionals. Our website had integrity and purpose and is utilized by staff and citizens alike for most public information and service needs. Thank you VC3! You rock!
VC3 gets IT out of sight, out of mind, and out of your way
<2
Hour
Response Time + Onsite Support
85 %
Average Reduction
in IT Incidents After 3 Months of VC3 Manage On Premises
10-15
Years
Average Experience of VC3's Strategic Advisors
The capacity, skill set, and experience to help you
AIM higher.
Fast, Comprehensive Onboarding

A streamlined onboarding process that ramps up your technology and support as quickly as possible.

Capable, Responsive Support

100% North American-based team with onsite support available in less than 2 hours.

Predictable Costs

We help you avoid bloated technology solutions that drive unbudgeted costs.

Forward-Thinking, Practical Partner

We work to understand your goals and how your organization uses technology. Then, we work with you to craft a solution that best suits you today and in the future.

Proactive Maintenance

VC3's 24/7/365 Network Operations Center is always proactively maintaining your systems.

Strategic IT Roadmap Gives You Freedom To Focus

Get out of the trenches and back to working on what matters.
Flexible and Comprehensive
Managed Services Solutions
Let's talk about how VC3 can help you AIM higher.