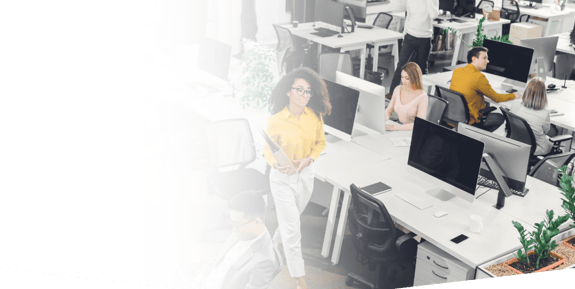 Trusted IT Services In Abilene
Ready for IT that just works? We are an IT Managed Services Provider (MSP) providing IT services in the Abilene, TX area.
We think about your IT so you don't have to.
With 50+ years of experience across our team of IT specialists, we know a thing or two about business technology. More importantly for you, we know how to put your technology to work for you so that it works smoothly and reliably. Every time.

There's nothing more frustrating than technology failing when you need it most. And let's be honest... there's never a good time for things to break. Computers don't start. Printers disconnect for no reason. Poor internet speeds at the office. The list goes on...
Proactive + Reactive = Always Active
A significant portion of keeping your business technology running smoothly is advance planning. Trouble is, you have plenty of things that need your attention besides which server solutions need updating or when your various endpoints become obsolete. We're experts in keeping our eyes on the horizon and establishing a plan for keeping the wheels greased. Whether it's planning for outdated device replacement, knowing which system updates to install and which to delay, or constantly scouting for IT solutions that benefit your business, we want to be your technology partner.

As with all technology, the one thing you can expect is that some things won't go as expected. Employee accidentally deleted critical business data? We can help you recover it. Computer won't start or is booting up slowly? We've been there. New software or system update causing problems with your business applications? We can sort it out.
We resolve most IT issues in less than an hour.
Why are we so confident? Because we view every client as a partner. That means your business is as important to us as it is to you. As part of our managed IT services, we get to know the intricacies of how you and your team use technology to move your business forward. So when something isn't working like it should, we're already familiar with your systems and processes so we can go straight to resolving the issue.
Protecting businesses in Abilene
Cybersecurity is one of those things that seems like a good word to know, but is difficult to understand exactly what it entails. Does it mean using a VPN to encrypt data in transit? What are the physical, on-site implications of keeping our business data secure? Do I need to change my passwords frequently? Can we set it and forget it? Should we pay for training?

The truth is that cybersecurity needs and practices vary from business to business. Different industries, licensing boards, and insurance policies can all have their own data security regulations and requirements to follow. Our comprehensive cybersecurity services identify exactly what measures are needed for your business to meet IT compliance requirements and protect your businesses and your customers.
What Our Clients Are Saying
Go Above and Beyond
Todd went above and beyond trying to resolve the issue with my Eygnite log-in via the VDI. Professional and friendly and followed up to ensure all was well prior to ticket closure. Thanks again!
Maria Galloway
Priority Power
Extremely Helpful
Bryce was extremely helpful and kind on the matter and was very patient with me as I was not around my laptop at the time he first called. We got the problem solved ASAP and then made sure that that applications and such were working properly. I can't thank you enough for helping me with this sir thank you!
Dominick Dahl
Priority Power Management
Reply Quickly
Got back to me quickly and took care of my problem
Seth Gibson
Benmark Supply
Let's talk about how VC3 can help you AIM higher.