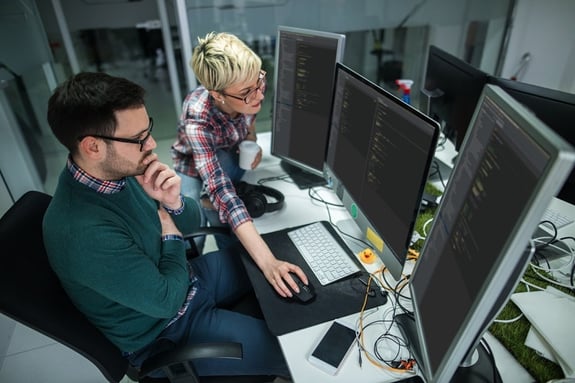 Protect Fortress
A comprehensive security solution for all assets, devices, users, and network elements.
Protect Fortress includes all the necessary core security components required to help protect an organization's end users and networking infrastructure from falling victim to a cybersecurity breach.
Organizations turn to VC3 for
Protect Fortress when they...
Have demanding, complex regulatory requirements
Are large and have too many cybersecurity demands for their internal IT teams
Need ongoing strategic cybersecurity guidance
Need to accommodate expanding cyber insurance eligibility requirements
Need to supplement their in-house security teams
Understanding the Cybersecurity Landscape
Our Managed Security Services protect each area of your organization just as you would protect your home.
Protect
Decrease your risk + increase friction for would-be attackers.
Detect
24/7 monitoring and detection of suspicious activity.
Respond
Get rapid response when crisis strikes.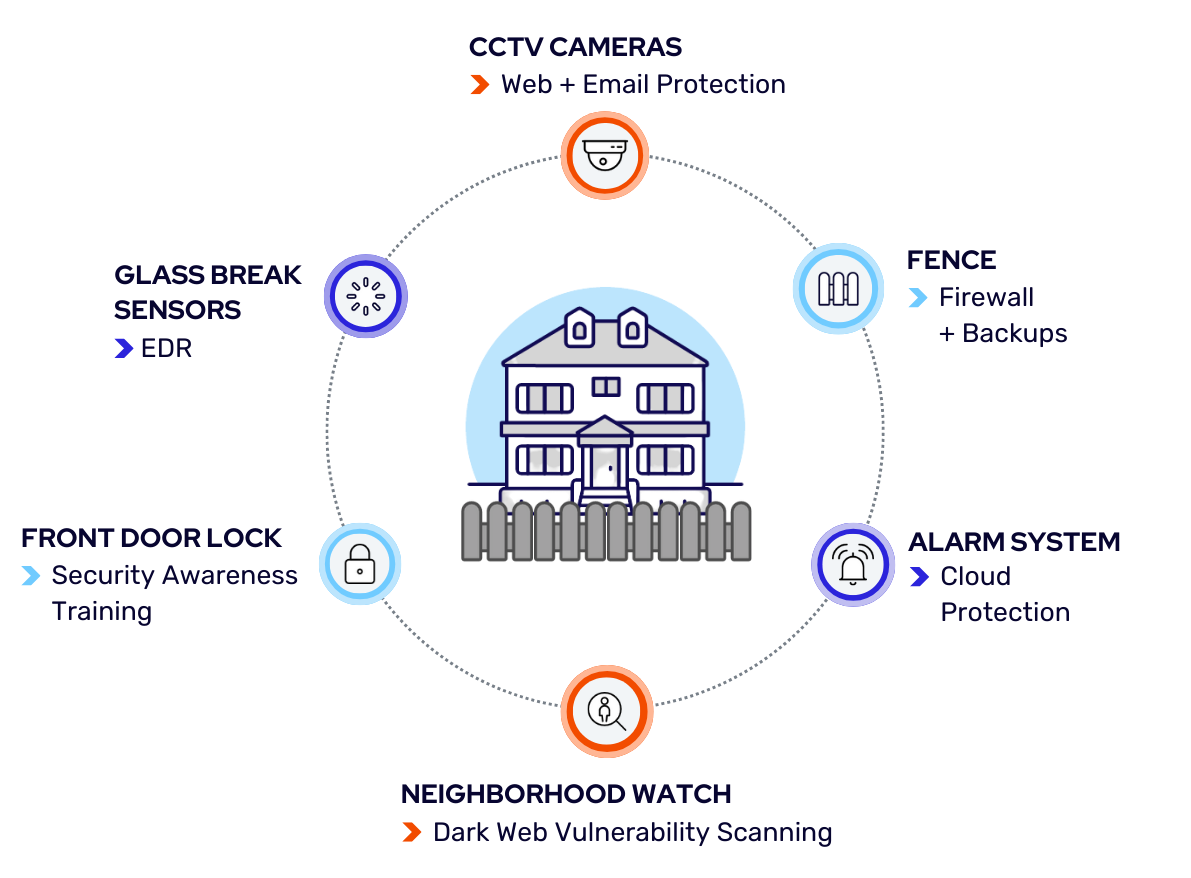 Get Fast Deployment

Our onboarding process enables us to understand your organization, ramp up quickly, and seamlessly integrate with your internal team.

Reduce Insurance Premiums

As cyber insurance premiums rise over 80%, strengthen your cyber protection to avoid premium increases.

Decrease Employee Risk

Extend your protection by equipping employees with the knowledge and tools to identify and alert you of suspicious activity.

Increase Network Security

Add a preventative layer of protection to areas of your network that employees commonly use.

Gain Clarity and Confidence

Enhance your cybersecurity defenses while getting clarity on practical ways to continuously improve your cybersecurity posture.

Protect Against Cyberattacks

With 95% of successful attacks starting in an email, VC3's advanced multi-factor authentication (MFA) reduces the chance of cyberattacks.
Total End User and Local Network Managed Security Suite
For organizations needing specialized strategic guidance to satisfy strict and evolving compliance frameworks, Protect Fortress offers monthly meetings with a vCISO and annual strategic cybersecurity planning.
Advanced Web Protection
Scan and screen potentially harmful web-based traffic before it ever reaches your employees.
Leading Endpoint Detection + Response (EDR)
Get more effective monitoring and detection from EDR that leverages AI and machine learning to extend your coverage.
Security Awareness Training
Make your employees your first and best line of defense in evading cyberattacks.
Proactive Email Protection
Block potentially harmful content and malicious emails from ever reaching your employees.
Dark Web Vulnerability Scanning
Prevent security breaches and identity theft with proactive dark web monitoring for your organization and employees' personally identifiable information.
Cloud Protection
24/7/365 protection of your SaaS applications like Microsoft 365 or Google Workspace.
Security Incident Management
24x7x365 proactive monitoring and incident response by a certified security team.
Comprehensive Reporting
Visibility for decision makers through non-technical business-driven reports.
Network Security Information and Event Management (SIEM)
Get real-time analysis of network hardware-generated and application-generated security alerts.
Network Multi-factor Authentication (MFA)
Protect user account access for line of business applications and systems. Additional coverage options include hard-token MFA, third party application MFA, and network VPN MFA.
Monthly VCISO Services
VC3 provides a Virtual Chief Information Security Officer (VCISO) to assist clients with security-related policies and overall security architecture. A VCISO will enable your organization to meet compliance regulations and maintain compliance moving forward.
Annual Security Assessment
Assess your organization on an annual basis to evaluate your security posture against internal and external threats, compliance with laws and regulations, and adherence to cybersecurity best practices and relevant frameworks.
What Our Clients Are Saying
We hadn't seen anyone like VC3 before.
I was pleasantly surprised by VC3's remote IT support and how well it served our city. We learned the hard way that we needed a vendor that helped us stay secure from ransomware and cyberattacks, update and patch everything constantly, and stay on top of IT issues. With VC3, everything is getting done. You don't know what you're missing if you've never seen it before—and we hadn't seen anyone like VC3 before.
Captain Jeff Swain
Isle of Palms Police Department, SC
Their knowledge and timing are impeccable.
Regarding VC3's day to day troubleshooting, their knowledge and timing are impeccable. Most of the time their IT staff can take control of our workstations and fix problems within minutes. More complex problems that require onsite staff are handled in short order. The staff is very pleasant and patient to work with each time we call. We receive calls from them to check up on us from time to time once an issue is resolved. Response time to emails and chats is almost immediate. We are very happy with our choice and feel that the service provided is well worth the monthly fee.
Jason Hall
City Manager, City of Lyons, GA
Keeping You
Protected and Prepared
<2
Hour
Response Time + Onsite Support
24/7/365
Monitoring
By Our Security Operations Center
29 +
Years
of Experience Evolving with the Threat Landscape
11 +
Years
Average Client Relationship Tenure
Our approach to technology enables your organization to AIM Higher.
Lots of companies can set up your laptops or manage your infrastructure. In order to contend with today's challenges, you need more than a break-fix vendor with a "24/7" help desk ticket to nowhere. You need a proactive partner that stops the issues before they start. That's where VC3 comes in.
Flexible and Comprehensive
Managed Security Solutions
Let's talk about how VC3 can help you AIM higher.