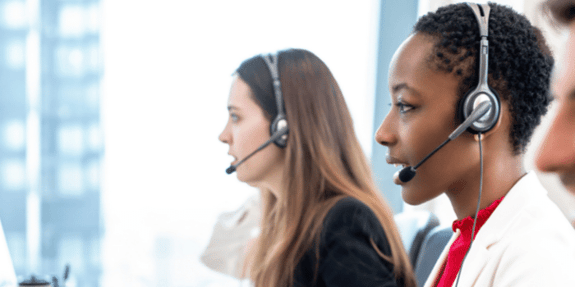 Manage Voice (VoIP)
Improve call quality, gain state-of-the-art VoIP features, and resolve issues in minutes.
Organizations turn to VC3 for
Manage Voice services when they...
Need to streamline the cost, complexity, and functionality of their phone system.
Need a reliable phone system to support a call center.
Need a 24/7 service desk to quickly address their requests and issues.
Want to selectively record calls for compliance or training.
Need their number to ring multiple phone devices including desk, cell, home, and more.
Designed for Organizations Needing Cost-Effective, Fully Supported, and Modernized Phone Systems
24x7 Service Desk

Manage Voice quickly addresses any service requests and technical issues. Our team is ready to respond.

Single, Integrated Solution

Manage Voice consolidates multiple sites to reduce the cost and complexity of your current phone situation.

Worry-Free Installation, Maintenance, and Service

With Manage Voice, we include installation, ongoing maintenance, and routine service to keep your phone systems running smoothly.

Features, Features, Features

Manage Voice includes fax to desktop, voicemail delivered straight to your email, and optional call center, call recording, call forwarding, and softphone features.

Disaster Recovery

Manage Voice includes flexible disaster recovery features such as automatic rerouting of calls. That way, you're still able to take calls after a disaster.
What Our Clients Are Saying
We hadn't seen anyone like VC3 before.
I was pleasantly surprised by VC3's remote IT support and how well it served our city. We learned the hard way that we needed a vendor that helped us stay secure from ransomware and cyberattacks, update and patch everything constantly, and stay on top of IT issues. With VC3, everything is getting done. You don't know what you're missing if you've never seen it before—and we hadn't seen anyone like VC3 before.
Captain Jeff Swain
Isle of Palms Police Department, SC
Their knowledge and timing are impeccable.
Regarding VC3's day to day troubleshooting, their knowledge and timing are impeccable. Most of the time their IT staff can take control of our workstations and fix problems within minutes. More complex problems that require onsite staff are handled in short order. The staff is very pleasant and patient to work with each time we call. We receive calls from them to check up on us from time to time once an issue is resolved. Response time to emails and chats is almost immediate. We are very happy with our choice and feel that the service provided is well worth the monthly fee.
Jason Hall
City Manager, City of Lyons, GA
VC3 gets IT out of sight, out of mind, and out of your way.
4,900
End Users Supported
300,000
Calls Processed Per Month
99.9965%
Uptime of Operation
The capacity, skill set, and experience to help you
AIM higher.
End to-End Service

Worry-free installation with ongoing support including maintaining equipment and replacing defective phones.

Capable, Responsive Support

100% North American-based team with onsite support available in less than 2 hours.

Practical + Predictable Costs

Avoid bloated solutions while consolidating multiple sites into a single, integrated solution.

Increased Resiliency

Automatically reroute incoming calls to another number during a power outage, disaster, or emergency at your organization.

Flexible Solutions

Right-sized IT solutions designed to fully equip your unique organization and its VoIP needs.

Streamlined IT + Reduced Issues

Get a proactive partner that simplifies your phone infrastructure and helps your organization reduce VoIP issues.
Our approach to technology enables your organization to AIM Higher.
Lots of companies can set up your laptops or manage your infrastructure. In order to contend with today's challenges, you need more than a break-fix vendor with a 24/7 helpdesk ticket to nowhere. You need a proactive partner that stops the issues before they start. That's where VC3 comes in.
Let's talk about how VC3 can help you AIM higher.