Even as of only a few years ago, an amazing website that looked good and included robust functionality was out of reach for many small cities. Large and medium cities began modernizing their websites but small cities seemed left behind by developments in website design—and for good reasons. An expensive website seemed overkill for cities with such a low population where poor broadband speeds or limited access to broadband sometimes affected internet access.
However, in 2019 even small cities feel the pressure to have a website. 90 percent of US adults are internet users, 85 percent of US households have broadband internet connections, and 81 percent of US adults own smartphones (compared to 35 percent in 2011). With so many people connected to the internet and using it all the time on their smartphones, even smaller cities realize they now need an internet presence.
The good news? An amazing website awaits you. Website design technology has improved so much that the cost of a new, modern, fresh, and customized design is now within your reach. Most of a high-priced website's costs are related to businesses requiring complex functionality (like ecommerce), hundreds or thousands of needed webpages, and competitive demand for a highly customized website. Small cities don't need these features. Many municipal leagues have taken advantage of this evolution in website design technology to offer custom, professionally designed websites with services such as Manage Essentials.
Let's look at the components of an "amazing" website and how these components have evolved so that they're now within your city's reach.
1. Look and feel
If you look at the history of cars, computers, or televisions over time, you will notice that the look and feel of each improves while the cost goes down and access increases. Websites have experienced a similar arc. For a sense of this evolution, this was Microsoft's website in 1999.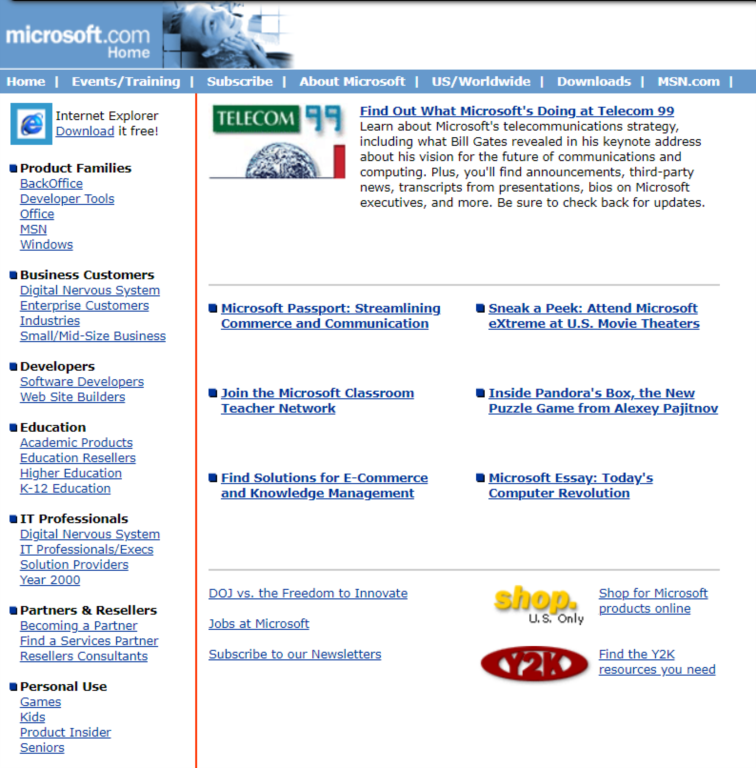 In 1999, this was a cutting-edge website. Today, a website that looks like this seems ancient, amateurish, and obsolete. We all know people who are comfortable with an old car, an old computer, or an old television. That's fine. Similarly, you may be comfortable with an old city website that may look somewhat like the website above from 1999.
The city of Brooks, Georgia has a population of under 600. Here is the homepage of their website.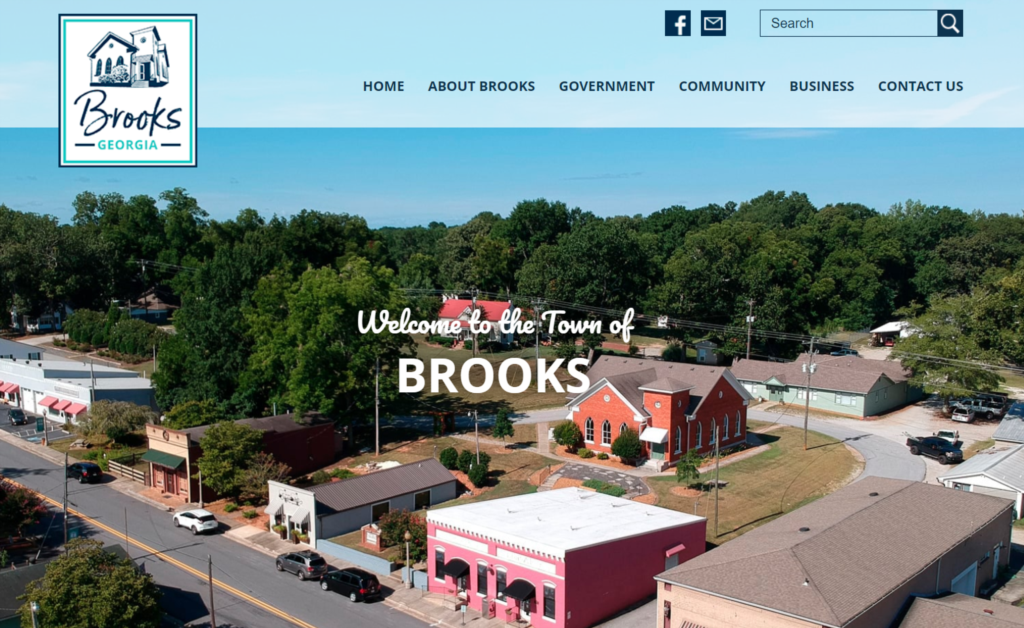 What a beautiful homepage picture showcasing downtown, and what a great first impression! As you can see, Brooks can show off their small city with a great-looking website that used to be only within reach of larger companies and organizations in the past.
2. Uploading and editing website content yourself
While it's becoming rarer to find "webmasters" in an age of modern websites, we occasionally find cities without direct access to making changes on their website. They must submit all changes to a webmaster (often a computer programmer or website developer), IT person, or non-technical city employee who found themselves in charge of the city's website. Relying on a technical person to make basic changes to content leads to bottlenecking—and bottlenecked content is why many older websites don't change much and grow stale quickly with dated, obsolete content.
To keep a website fresh, you need more immediate control over your content. Most modern websites include content management systems (CMS)—a fancy term for the backend part of a website that allows you to add, edit, and delete the content on your website without much (if any) technical know-how. If you can use a word processing program (like Microsoft Word), then you can use a CMS. With a CMS, you can easily post city council minutes, news, events, important updates, and pretty much anything else.
3. Professional website hosting
Another sign of an aging website is an unprofessional website hosting platform. A few problems and red flags related to website hosting include:
Uncertainty about who, where, and how your website is hosted. For example, is your website hosted in another country? Are you confident that trusted professionals are overseeing that hosting? Is your website backed up? Or, are you trying to host your website yourself?
An unprofessional domain name. The "domain name" is part of your website. For example, "brooksga.com" is the domain name for Brooks, Georgia. It looks professional and makes sense. Some cities use a domain name that looks unprofessional, such as "surfcity-nj-gov.us" (Surf City, New Jersey later changed its domain name to the more professional surfcitynj.org).
Uncertainty about security. Website security includes both the security of the data stored in your content management system and the security for people using your website. If your city website is not secure, it can get hacked and defaced, experience data loss, or jeopardize the confidential and sensitive information that citizens submit on your website.
You can host and secure your website while buying a professional domain name without having to worry about shady web hosting providers or threats of website hacking.
4. Responsive design to help mobile visitors
Pick up your smartphone, go to https://www.brooksga.com/, and look at the homepage. Notice how the big picture on your desktop or laptop computer isn't the picture you see. Instead, you see a version of the picture that scales to your smartphone. That's because the Brooks, Georgia website has a responsive design.
Because so many people use their smartphones to access the internet, having a responsive website design is crucial. Google even penalizes websites that are not responsive, meaning your city's website won't show up high in search results if your website lacks a responsive design. Luckily, a modern website design will have responsive design built into it—but an older website may lack this feature or the ability to implement it.
5. Information ordered in a logical, user-friendly way
Older websites often have poor "information architecture" design. This means the organization of information on your website is chaotic, and it's difficult to create order because of the way it's designed. Modern websites offer easy-to-use information architecture tools that allow you to structure your information in an orderly manner.
Going back to the Brooks, Georgia homepage above, you will notice they've organized their information under several navigational tabs:
Home
About Brooks
Government
Community
Business
Contact Us
Under each of these tabs, they have organized information into further subtabs. For example, Government includes the following webpages:
Administration
Mayor and Council
Code of Ordinances
Forms
Library
Minutes
Public Notices
Services
Zoning
Without this information architecture, or with a poor information architecture, it can be hard for citizens to find information. Modern websites make an information architecture easy to set up.
---
A small city does not have to wait any longer to get an amazing website for itself. The technology and tools exist today—and they are accessible to you. Brooks, Georgia, Sharpsburg, Georgia, and Breda, Iowa are small cities and they all have modern websites that showcase their best qualities to the world.
Want to modernize your website? Reach out to us today.
Original Date: 11/20/2019