Have you ever called a company and gotten the run-around, as if no one knew what was going on or how to get answers? We don't want that to be the case when clients call us, that's why we have Client Success Managers like Erica Almendarez on our team. The Client Success Manager position was created to be a communication hub for clients, to give them a go-to person who had the answer or could find the answer to any question they might have. Erica was one of the first people to fill this role at Accent Computer Solutions so you can say that she was kind of a pioneer.
Pioneer for a New Client-Facing Role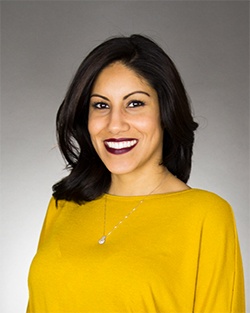 Erica started out at Accent as a dispatcher, coordinating and scheduling resources in response to support requests. She had been working in that job for about six months when Corey Kaufman, Director of Client Development, approached her about being the first Customer Success Manager. At the time, she didn't really know what she was getting herself into, but she couldn't be happier with how it all turned out.
"Corey took me under his wing when we started this new position. We didn't know exactly what it was going to look like when we started," said Erica. "Corey started taking me on appointments with him and guiding my development in a customer-facing role and I grew into it."
Work Environment is Uplifting and Supportive
Erica is appreciative of the opportunity to develop her career at VC3 and she describes the atmosphere here as uplifting and energetic.
"We do a really good job of supporting each other and making it a fun work environment," said Erica. "We just know that we have each other's back, no matter what. It really feels very much like a home, which I know is a cliché because Accent is a family-owned company."
There are four members of Marty Kaufman's family who work at Accent but according to Erica, you would never know they are related. Erica describes them as very professional and respectful of each other's positions in the company. She feels very comfortable approaching any of them with a question or concern, knowing that they're not too busy to listen.
Understanding the People Part of IT Support
While Erica spends most of her time at the office interacting with clients by phone and email, her favorite part of her job as Client Success Manager is making onsite visits to client locations. The visits help her to deepen her understanding of the client's business and the people who work there. She feels a sense of pride knowing that the Accent team is really making a difference in how these companies can deliver to their own customers.
Ask Erica what her favorite experience has been at Accent, and she will point to a success story pertaining to one of the first clients that she started working with as a Client Success Manager. It was a big, complicated situation with many locations and moving parts, but as a result of Erica's work to become a conduit of information and coordination, the relationship has grown stronger.
"They depend on us to make sure things are working and if something happens, we're just on it," said Erica. "Because of how we respond to them, this company knows that they can trust us and take our advice when we recommend improvements. It's all because of the relationship we've built with them."
Recognition and Appreciation for a Job Well Done
Working in the IT world is fast-paced, and it can be stressful, but Erica says that employees know that their efforts are appreciated. In addition to the positive attitudes that radiate from management, employees get surprised with tickets to sports events, gift cards, or cash for a job well done.
Appreciation doesn't just flow from the top down. Sometimes there's spontaneous cheering in the office.
"We'll hear somebody clapping and it's infectious, so we all stand up and we join in the clapping. We don't even know what we're clapping for except that someone did a great job helping a client," said Erica.
When was the Last Time You Got a Spontaneous Cheer at Work?
Check out our current openings if you're interested in an IT job where you can make a difference in people's lives; have fun at work; and maybe get a cheer now and then.